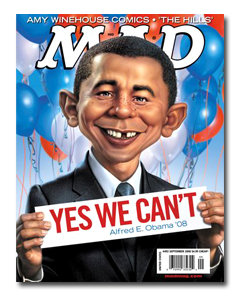 Mad magazine, the satirical monthly founded in 1952, is going quarterly and shuttering a pair of spinoffs, its parent company, DC Comics, said today.
The quarterly schedule will begin in April, after the magazine's 500th issue is published.
A spinoff, Mad Kids, will cease publication February 17, and Mad Classics on March 17. Both of those magazines launched in 2005.
In typical Mad fashion, the news provided an opportunity for satire. "The feedback we've gotten from readers is that only every third issue of Mad is funny," Mad editor John Ficarra said. "So we decided to just publish those."
Mad will increase the number of pages per issue, he said.
The magazine's circulation has dropped significantly in recent years, falling from about 500,000 copies per issue in 2002 to under 200,000 in 2008, according to one estimate. (Mad's peak came in the mid-1970s, when its circulation topped 2 million.)