Macy's Deflates its Print Bubble

Retailer to cut print advertising budget in first half of '09.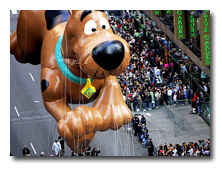 The world's largest store, Macy's, has decided to cut its entire magazine spend for the first half of next year. This, according to several publishers who were impacted by the retailer's 2009 media plan.
This news comes amid Macy's marketing binge, which includes its 150th birthday celebration (complete with fireworks and a gala last week), its annual Thanksgiving Day Parade, and an overflowing holiday marketing plan. A Macy's spokeswoman declined to confirm the print cut, or disclose specifics of the company's media-buying strategies. Macy's media agency, Mediaedge:cia, also declined to comment.
While the past few weeks in the print world have been abysmal, this development is yet another hit to publishers relying on pieces of Macy's magazine budget (it topped $20 million in the first half of 2008 according to TNS Media Intelligence) for faltering ad sales. Back in 2006, when the transportation industry was at an all-time low, American Airlines managing director Rob Britton reacted similarly, cutting AA's magazine spending in half from their marketing budget and redirecting it to television and Internet.
Still, it's not just Macy's that's cutting print. While many marketers have not yet finalized budgets for 2009, automakers Nissan, Land Rover and Jaguar report they plan to spend less in the new year. Since U.S. auto sales have fallen 32 percent in 2008, Ford recently cut $200 million of its ad spend, as well.
But these print cuts don't just apply to the auto industry: with traditional media hit hardest, '09 may find marketers applying their ad dollars to more-measurable media (e.g. digital). According to Eloqua's 2008 "State of the Marketer" survey, 55 percent of marketers anticipate a decrease in print ad spend three years from now.
Macy's decision to cut print advertising out of its marketing budget, while not shocking, is significant: that a major retailer considers print magazines the weakest link in their marketing scheme, coming in last place to parades, galas and online, is not good news for an industry that's reeling. In the end, though, it's just another blow to consumer magazine publishers looking for anything resembling a float to cling to.
Meet the Author
---