Macrovision Sells TV Guide Net in $300M Deal

Divestiture comes two months after sale of print edition.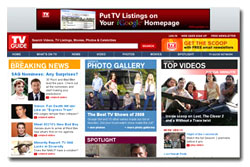 Macrovision, the Santa Clara, California-based digital software solutions firm, has reached an agreement to sell the TV Guide Network—including TVGuide.com—to Allen Shapiro and One Equity Partners for an initial payment of $255 million, the company announced Thursday.
Up to an additional $45 million in "earn-out" can be paid through 2012, the company said.
According to Macrovision president and CEO Fred Amoroso, the divestiture "will further streamline our business operations." The deal is expected to close April 1.
One Equity Partners manages $8 billion of investments and commitments for JPMorgan Chase & Co. Shapiro most recently served as president of Mosaic Media Group.
In October, Macrovisiion sold the print edition of TV Guide to Beverly Hills, California-based investment firm OpenGate Capital for $1, keeping the Web site. As part of the financial terms, Macrovision was to loan OpenGate up to $9.5 million at 3 percent interest.
In April, Gemstar-TV Guide stockholders approved the company's merger with Macrovision, which agreed last December to acquire Gemstar for $2.8 billion in cash and stock.
Meet the Author
---