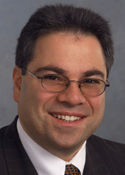 Paul Mackler no longer is chairman and CEO of HMP Holdings, the parent company of healthcare publisher HMP Communications and the North American Center for Continuing Medical Education. The announcement was made to staffers late last week.
Company president and COO Jeff Hennessy has been promoted to replace Mackler [pictured] as CEO. Phil Thompson, a general partner at private equity owner Alta Communications, declined to comment on the circumstances surrounding Mackler's departure but said it was a mutual decision.
"I have the highest regard for Paul on a personal and professional level, and I and the board obviously wish him well on his future activities," Thompson said. "He worked very hard for HMP during a tough environment and we're grateful for his efforts."
"Jeff is a strong leader with a great deal of experience in the healthcare field, and his intimate knowledge of the entire organization will make this a smooth and seamless transition." Mackler wrote in an e-mail to FOLIO:. "The board and I feel very confident in Jeff's ability to lead the company going forward."
Thompson did not talk about HMP's revenues last year but said the healthcare industry as a whole, like so many others, suffered losses. "The marketplace in 2009 certainly wasn't a lot of fun. It's too early to tell what it will look like in 2010 but a little tail wind would be nice, and we're slightly more optimistic than we were during most of 2009, although again it's early. Regardless, we've got the right people, products and level of commitment and we're ready for whatever is ahead of us."
Mackler, along with former HMP Holdings CFO Ken Fisher, partnered with Alta to acquire HMP Communications and NAACME in August 2007. Fisher left HMP in November and the company is actively seeking a replacement, Thompson said.
Before HMP, Mackler served as CEO of Cygnus Business Information, the trade publisher he co-acquired in 2000 with private equity firm ABRY Partners for more than $200 million. Prior to that, he served as CEO of Reed Exhibitions.
HMP Communications publishes several medical journals, including Wounds, Podiatry Today, Cath Lab Digest, the Journal of Invasive Cardiology, First Report—Managed Care and Skin & Aging.