On Mac-Wielding 23-Year-Olds, Infuriating Freelancers and the End of Free News

A roundup of user comments.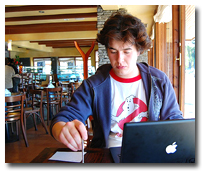 Maybe it's the economy. The volume of comments on FOLIOMag.com have been at an all-time high lately.
Here, a few of the more funny, insightful and controversial …
On "24 Observations from the Magazines 24/7 Conference" and Rodale executive vice president and group publisher MaryAnn Bekkedahl's claim that 23-year-old on an iMac in the café may not produce great content:
"I don't have the answer but I think that a good starting point would be to peek over the shoulder of that 23-year-old with his iMac in the cafe. I don't picture a newspaper or magazine near him. Now look over the shoulder of 33-year-old, 44-year-old, 53-year-old. What tools are they using? What is their information mix? How quickly are they migrating to the social media that the 23-year-old uses because he doesn't know anything different? And I suspect that the general content/advertising business model will be defined largely by companies like Facebook and Twitter (which eventually need to define their own revenue models) will do it by listening, understanding, and reacting to their customers."
On "Freelancers Call for Boycott of New Reader's Digest Association Magazines":
"I assumed any decent freelance writer with strong enough critical thinking abilities to actually write for a top-flight magazine group like RDA would dismiss [Meg Weaver's] crazy ramblings out of hand. RDA pays some of the highest per-word rates available to freelancers today, and I can only assume that the freelancers writing the original content for these publications in Australia and Canada are benefiting from those rates. How very isolationist and short-sighted of Weaver to attempt this ridiculous 'boycott.' If you offer a service that is superior to that of others in your industry, you will always have work. RDA treats its freelancers well, and I hope their ventures are successful and they are able to continue publishing their product."
On Penton's most recent layoffs ("Layoffs Hit Penton's Technology Group"):
"The writing was on the wall when the smoking lounge was closed. Now we have to smoke by the RTA bus stop and it feels so dirty. I guess this is what they mean by market-facing strategy."
On "CSM Editor: 'News is Free' Era is Over":
"News is free—that cat is already out of the bag. Once an event happens—once it's news—details and facts will flood free media to the point that the idea of charging for those same details and facts will look, feel, and be laughable. Analysis? Well, that's a different story. There you may be able to provide a value add, you might be able to charge a premium, provided free media isn't doing as good or better job at it. The jury is still out on the likelihood of that. Does Mr. Yemma [CSM editor] not see that as 'real' journalists are turned out of work by legitimate news sources they will turn to the web they will become 'bloggers'? So forget about the age of free news. We're entering the age of entrepreneurial journalism."
On "Airline Takes Heat Over SI Swimsuit Promo on Side of 737":
"As a former Pacific Southwest Airlines flight attendant from the late 60's to the mid 70's, sex was what sold the airlines. As those who bore the brunt of the jokes and harassment, we were glad to see our efforts to bring some dignity to our jobs pay off. We need to bring the fun back to flying, but not at the expense of the dignity of women. Let's try another 'hook.'"
And:
"Have these people been to a beach in the last 50 years? Who cares if SWA wants to put a picture of a woman in a bikini on their air plane. It might only be offensive to those who are far, far too sensitive or are led to feel guilty by looking at an attractive woman on the side of a plane. I say good job to SI and SWA."
[IMAGE via Flickr]
Meet the Author
---