M&A Scorecard | November 2008

With the U.S. economy continuing its dramatic rollercoaster ride, it's no wonder big media deals just haven't been getting done. As of presstime, bellweathers for media M&A like Reed Elsevier's auction of Reed Business Information and ABRY Partners' sale of Cygnus Business Media hung in the balance.
September 23
Buyer: Active Interest Media
Seller: Yellowstone Journal Corporation
Sale Price: N/A
Multiple: N/A
The deal behind the deal: Lander, Wyoming-based tourism media group Yellowstone Journal Corporation, which publishes Yellowstone Journal and 99 Things to Do in Yellowstone County, was acquired by Yoga Journal publisher Active Interest Media. The magazines are distributed to visitors in the six states surrounding Yellowstone National Park.
Financial terms were not disclosed.
According to AIM's COO Andy Clurman, the Yellowstone Journal Corporation "is an excellent company with outstanding future growth potential, and represents the best kind of multi-platform media properties we seek to acquire."
In terms of sharing content and audience, Yellowstone's family of print and Web products are "a perfect fit" with AIM's Backpacker and American Cowboy magazines, Clurman added.
The acquisition also includes Yellowstone's Web site, YellowStonePark.com. Yellowstone's founding CEO, Shelli Johnson, and the company's entire staff will remain with the magazines, AIM said.
Our panel says: "The deal is small, but adds to Active Interest Media's portfolio of enthusiast magazines, events and Web sites, and expands its footprint in the outdoor and Western travel markets."

September 25
Buyer: Bonnier Corp.
Seller: MCG Capital (Working Mother Media)
Sale Price: N/A
Multiple: N/A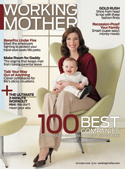 The deal behind the deal:
Bonnier Corp. acquired Working Mother publisher Working Mother Media Inc. from MCG Capital and founding CEO Carol Evans. The deal was brokered by AdMedia Partners. Financial terms were not disclosed and no lay-offs were planned.
This is Bonnier's first acquisition since Sweden's Bonnier Group combined its U.S. magazine partner, World Publications, with its acquisition of 18 media properties from Time Inc.'s enthusiast Time4Media group last year. Through the third quarter, Working Mother's ad pages were up 14.4 percent, according to PIB.
Our panel says: "This is a very strategic and smart buy. Bonnier is building a strong women's vertical and also has scale which is what Working Mother Media needed."

September 29
Buyer: Washington Post Company
Seller: Carnegie Endowment for International Peace (Foreign Policy)
Sale Price: N/A
Multiple: N/A

The deal behind the deal: Newsweek publisher the Washington Post Company acquired Foreign Policy and its accompanying Web site from Washington, D.C.-based Carnegie Endowment for International Peace. Financial terms of the deal were not disclosed.
As part of the deal, Foreign Policy was to become part of WPC's Slate Group, which produces online news magazine Slate. Editor and publisher Moises Naim was to stay on as editor and longtime Washington Post editor and foreign correspondent Susan Glasser was tapped as executive editor.
Managing editor William Dobson, who had been with the magazine for four years, was laid off.
WPC reported first half 2008 net income of $36.5 million, plummeting 73 percent from $133.2 million during the same period in 2007. Revenue, however, was $2.1 billion, up 7 percent from the same period last year.
Our panel says: "A pretty strategic buy for the Washington Post Company. With its talent pool, there isn't much doubt that it will continue Foreign Policy's tradition of superb editorial."

October 15
Buyer: OpenGate Capital
Seller: Macrovision (TV Guide)
Sale Price: $1
Multiple: N/A
The deal behind the deal:
Macrovision sold the print edition of TV Guide to investment firm OpenGate Capital for $1—less than the cover price of one issue. Macrovision also said it would lend OpenGate up to $9.5 million at a 3 percent interest rate. For now, Macrovision will keep TVGuide.com.
According to OpenGate founder and managing partner Andrew Nikou, terms of the sale "need to be taken into perspective." "With losses over $20 million in 2007 and further losses expected in 2008 … OpenGate is stepping in with the commitment to successfully complete the magazine's turn-around, which targets restored profitability by the end of 2009, and to re-establishing TV Guide as the premier television entertainment magazine in the country," he said.
Our panel says: "In this economy, I guess anything goes. It makes sense that Macrovision didn't want TV Guide, which has been losing money annually, off its books. But, will the new owner really be able to turn a profit by 2009? I don't know. It could be a while before Macrovision sees that loan paid back in full."
Buying? Selling? Know someone who is?
Submit M&A related tips and news to associate editor Jason Fell.
Meet the Author
---