M&A Scorecard | December 2008

From layoffs to plunging credit markets, publishing industry M&A activity seemed to grind to a halt in late October/early November. According to predictions from the Jordan, Edmiston Group managing directors Tolman Geffs and Scott Peters, the market could bottom out before the end of the year and not see growth until 2010.
November 11
Buyer: WPP Group
Seller: The Nielsen Company (SRDS)
Sale Price: (trade)
Multiple: N/A
The deal behind the deal:
The Nielsen Company traded media rates and data provider SRDS to U.K.-based ad agency the WPP Group in exchange for the remaining 50 percent stake in AGBNielsen Media Research, making Nielsen the group's sole owner.
As part of the asset swap, Nielsen will transfer healthcare media group PERQ/HCI—which merged with SRDS in 2002—and its 11 percent stake in Brazilian-based research firm the IBOPE Group to WPP.
"In an increasingly digital world, it is essential for Nielsen to strengthen its global market position," Nielsen chairman and CEO David Calhoun said in a statement.
In October, the WPP Group acquired TNS Media Intelligence parent Taylor Nelson Sofres for $1.9 billion.
Our panel says:
"SRDS, a venerable brand, has obvious ties to Nielsen's Adweek Media Group. The trade, however, is a strategic one in that it it's a good fit for both parties, and gives Nielsen full ownership of its global TV ratings group."

November 12
Buyer: Tiger Oak Publications
Seller: Sabey Corp. (Washington CEO)
Sale Price: N/A
Multiple: N/A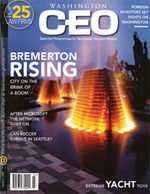 The deal behind the deal:
Regional publisher Tiger Oak Publications has acquired Washington CEO from Sabey Corp., a Tukwila, Washington-based real estate developer. Terms of the deal were not disclosed.
As part of the deal, Tiger Oak will shutter Washington CEO and fold its assets into Seattle Business. Tiger Oak also publishers Seattle, Northwest Meetings and Events and Urban Pages.
"I operated Washington CEO even though it wasn't core to our business because I believe the business community needs a strong and respected voice," Dave Sabey, Sabey Corp. chairman, said in a statement. "We made the decision in these challenging economic times that the best way to preserve a voice was by merging Washington CEO into Seattle Business."
Washington CEO was published monthly and had a circulation of 32,500. The December issue will be its last.
Our panel says: "Folding [Washington CEO] into the buyer's stronger magazine—Seattle Business—leverages former subscribers along with some good staff, and strengthens Tiger Oak's foothold in the market. We've seen several of these sales and it strengthens the regional publishing sector as a whole."

November 12
Buyer: Imagine Nation Books
Seller: Reader's Digest Association (Books Are Fun)
Sale Price: Approx. $17.5 million
Multiple: N/A

The deal behind the deal: As part of a multi-tiered transaction, the Reader's Digest Association agreed to sell assets associated with Books Are Fun, including intellectual property and product inventory, to Imagine Nation Books for roughly $17.5 million, payable over three years.
Following the close of the transaction—which is expected in December—RDA will "wind down" the Books Are Fun operations, the company said in a statement. INB will integrate Books Are Fun salespeople with its own team.
The companies also have entered into a "multi-year strategic alliance" in which RDA will sell products through INB's display marketing channels.
Our panel says:
"Obviously, Imagine Nation Books is banking on the continued value of Reader's Digest book products. If they can successfully integrate the teams they will create what will likely be a stronger sales operation."

November 14
Buyer: Congressional Quarterly
Seller: TrendTRACK
Sale Price: N/A
Multiple: N/A
The deal behind the deal:
Washington-based Congressional Quarterly Inc. has acquired Web-based state legislation information search engine TrendTRACK. Terms of the deal were not disclosed.
CQ, which is owned by St. Petersburg Times newspaper publisher Times Publishing Co., hopes to tap into TrendTRACK's search capabilities, which connects clients with the status and text of every bill in every active legislature, the company says. Clients—including trade and professional associations, education institutions and public affairs firms—use the service to create customized reports and e-mail alerts.
In May, Congressional Quarterly Inc. sold CQ Press, its book publishing business, to SAGE, an international publisher of journals, books and electronic media for academic, educational and professional markets.
Our panel says: "This makes sense. The acquisition expands Congressional Quarterly's legislative tracking capabilities from the federal level more deeply into the state level."
Buying? Selling? Know someone who is?
Submit M&A related tips and news to associate editor Jason Fell.
Meet the Author
---