M-Commerce Spending Approaches $5B in Q2

Devices account for 10 percent of total e-commerce market.
Few publishers have made mobile commerce a priority, but those looking to expand their ancillary revenue streams will have to soon. M-commerce now accounts for 10 percent of all e-commerce spending, according to study released today by comScore.
The segment generated $4.7 billion in spending for the second quarter of 2013—up 24-percent from the same quarter a year ago—while total e-commerce expenditures rose 16 percent to $49 billion, comScore reported earlier this month.
"While mobile devices are already extremely influential in the overall buying process, they are also beginning to drive a meaningful percentage of digital commerce," says Gian Fulgoni, comScore chairman, in a statement. "It would appear that m-commerce spending has reached enough of a critical mass that key stakeholders must begin to address this new market dynamic today."
Smartphones predictably claimed a higher share of the m-commerce market than tablets (6 percent vs. 3.5 percent) with more than twice the number of users. Average spending per device was 20 percent higher on tablets however.
Event tickets proved to be the most popular m-commerce purchase, with devices accounting for more than 15 percent of spending in the category. Consumer packaged goods were the least-purchased as desktop retained more than 95 percent of the market share.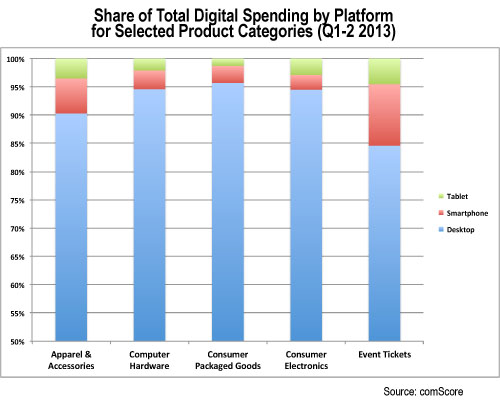 To stay updated on the latest FOLIO: news, become a Facebook fan and follow us on Twitter!
Meet the Author
---