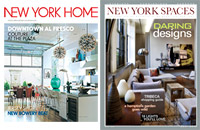 Wainscot Media has announced that it will acquire Hour Media's luxury interior design magazine New York Home. The terms of the deal were not disclosed. 
According to the deal, "the best elements" of New York Home will be incorporated into Wainscot's New York Spaces, another New York-based luxury interior design title. Representatives from Wainscot and Hour Media did not return requests for comment. 
As part of the transition, Jason Kontos, editor-in-chief of New York Home, will become editor-in-chief of New York Spaces, according to an internal memo. New York Spaces founding editor Rita Guarna will be promoted to corporate editorial director at Wainscot. New York Spaces will increase its frequency from seven issues per year to 10 in 2008, and will undergo a redesign. 
"This merger will provide both readers and advertisers an opportunity to get the best of both titles in one package," Hour Media president John Balardo said in the memo. News of the acquisition comes on the heels of a Folio: report that Absolute, the New York-based luxury bimonthly relaunched last year by Hour Media, will be shuttered again if the publisher cannot find a buyer for the magazine. Absolute launched in 2005 but closed in 2006 after burning through $10 million in financing. 
The November/December issue of New York Home will be its last as a standalone magazine, according to the memo.