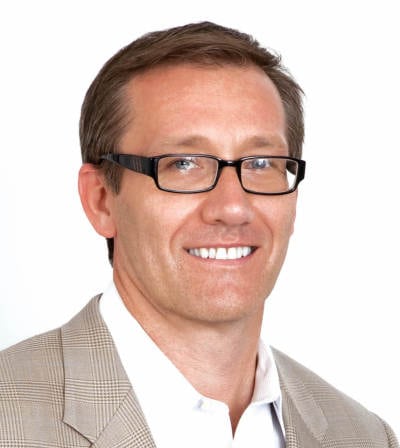 If the current narrative in the magazine world is that print is in peril, Robb Report hasn't received the memo. While the past decade bore witness to near-catastrophic print declines across much of the industry, circulation for the luxury lifestyle brand's monthly magazine has fallen a mere 2.4 percent since 2006, according to data from the Alliance for Audited Media, and its digital audience has exploded.
See also: Meet Alison Overholt, ESPN The Magazine's first female editor-in-chief.
To kick off the brand's landmark 40th year, Robb Report established itself as the official media partner for the 2016 North American International Auto Show in Detroit, Michigan, reporting live from a 10,000 square-foot studio on the show floor.
Following the success of the Auto Show partnership, Folio: sat down with SVP and editor-in-chief Brett Anderson to discover what's gone so right for the brand, and what's next for the year ahead.
Folio: How long have you been with Robb Report?
Brett Anderson: I have been with Robb Report since 2001. I was part of the team that acquired it from Luxury Media. That's sort of where this began, in June of 2001. I've been running the content side of the business since then.
Folio: Let's talk about the Detroit Auto Show. What were you hoping to accomplish with your presence there?
Anderson: Robb Report began as a magazine that covered collectible cars. From there, the magazine expanded into other types of collecting—watches, fine art, wine, and so forth—but cars have always been a huge part of the magazine's DNA. We attend the show every year, but this year, because our current financial partners are based in Detroit and we spend a lot of time there, we decided to do something special and make a statement to the automotive industry that we're very much a part of it, that it's exciting to us, that it's kind of at the core of our readers' interests.
And we wanted to show a slightly different side of what goes on in Detroit, so we really wanted to focus on design connoiseurship, things that don't necessarily get mentioned by the more traditional automotive press, where it's all about horsepower or the best car for the money. For us, it's really looking at automobiles as art, so that's one of the things we wanted to do—a slightly different type of coverage. So we built a whole program around that, both on the floor at the show, but also with the studio that we had set up. We've been doing a lot more video coverage as part of our digital push, and this just made a lot of sense.
The results went quite well. We generated quite a bit of traffic, a lot of social media engagement, and we definitely plan to do it again next year.
Folio: You mentioned really making your presence known in that automotive space. What response have you seen from brand partners?
Anderson: Well I have to say, I don't really deal with the advertising side of the business, but what I hear from our sales side and our publisher is that the response was very positive. They liked the fact that we were making a statement and that we were higher-profile [at the show] than we have been in the past. I think also because our approach—our voice, our way of engaging with our audience—is somewhat different than the traditional automotive publications, I've heard, at least anecdotally, that it was a breath of fresh air.
Folio: Are you planning more of these live-event partnershps?
Anderson: Absolutely. We do a number of live events throughout the year that are participatory, but I expect we'll be doing more of this type of thing, too. We hold an event in the summer in Deer Valley, Utah, which is kind of a symposium of the top professionals in the medical field speaking to the consumer about the latest research, cutting-edge technology, what's happening in the world of health, and how it affects them.
About ten years ago, we looked at launching a wellness publication directed slightly more at our female readership than our male readership. At the time, people loved the idea of the health content, but they didn't feel like Robb Report was the appropriate brand to present it. So we kind of set that idea aside. A couple of years ago, we had similar conversations with core members of our audience, leaders in the world of business, and the response was overwhelmingly that it was a great idea. Health is such a part of living a quality life and getting the most out of your life—being at your personal best—which is what Robb Report is all about. Experience has become much more of a focus for our audience, and health and wellness is a big part of that.
So we're doing that, we do Car of the Year, we're planning a new luxury summit in New York in May, which will coincide with our May issue. We'll continue to develop those types of ideas where they make sense and where there are opportunities that are rich in content to present to our audiences.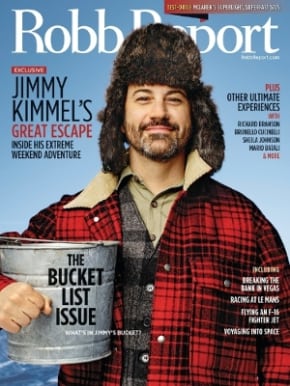 Folio: You mentioned your female readership. Do females make up a significant portion of Robb Report's audience?
Anderson: It's something we've always wanted to cultivate. Robb Report is a magazine that males primarily subscribe to, but their partners, wives, significant others also read the magazine. So our readership is really roughly 50/50, but it's usually in the male member of the household's name. What we've tried to do is come up with some ideas that would enable us to do more for our female readers. The wellness idea was one of them. As the magazine has continued to develop that idea, I think it has equal appeal to both men and women. It's probably got stronger appeal to females simply because, as market research will bear out, its usually the female member of the household that's making health-related decisions. But certainly both men and women are reading it and I think are much more conscious of health these days and enhancing your life through better health. It's become a recreational thing as well as a necessity.
Folio: When you talk about health and wellness-related topics, are you doing anything to appeal to younger audiences?
Anderson: Absolutely. We've always viewed the magazine as multi-generational. You can sort of liken it to the farm system in baseball. I've had readers in their 60s tell me they were looking at Robb Report when they were kids and always dreaming about being able to travel to the places we covered or own the products we covered. Now they're at a point where they're able to do that, but we've been with them throughout the years and throughout their careers as their lives have evolved and developed. We've always been conscious of that.
There's an engagement there. The things that we cover are fun and beautiful, so we've been trying to include that audience, particularly online, because we're engaging a younger audience there routinely. On the website, we try to emphasize attainable luxuries a little bit more. Of course, we still have the super yachts and the business jets, but we also do a lot of things with lifestyle and nightlife, because a younger audience—late 20s early 30s—they're well educated and have some disposable income. So while they might not be buying the new $2.6 million Bugatti, they're going to be doing lots of other things. There's an interest in fashion, fine wine, travel, nightlife, which are seen as attainable forms of luxury.
Folio: What are you doing with things like native advertising and sponsored content? How do you build that out while still maintaining the trust of your audience?
Anderson: We've always kept church and state quite separate. But that said, obviously, the world is changing. Every media brand is grappling with that in their own way. It's not just magazines. Anything that we do, on the editorial side, we weigh in on where we think something crosses the line, and our management is very supportive of that, because our whole brand is based on this idea of authority. If we compromise that authority, we kind of lose the mystique of the brand. So we're very careful about that, but we also recongnize that, from the business side, you've got to deal with the realities of the marketplace. What we try to do is produce the best possible product we have, making it very clear what it is. We label everything accordingly. You're not going to get some branded content that's veiled as pure editorial.
Folio: Switching gears, what else is on the horizon for 2016? What can you tell us about Robb Report's international expansion?
Anderson: We will be announcing some developments there, but because those projects are still under wraps I can't really name specifics. We will be rolling out new international projects this year. More to come very soon on that front. We're seeing some exciting growth there.
Obviously, we'll continue to grow and develop our presence in the international markets where we already have products. We're definitely growing the digital side of those businesses. We've got a robust international print presence, but you'll be seeing more and more from the digital side. Probably more international events, too.
Folio: So obviously you're seeing a lot of growth on the digital side of things, especially with video.
Anderson: I think much of the subject matter that we cover lends itself to video, so it's natural. We do quite a significant amount of video, for instance with our Car of the Year event. When you're looking at fine automobiles, video really shows you what they can do. But people like the sexy pictures in print, too. I think they complement one another—we've found that people like both. They like having the glossy magazine, but they also like the opportunity to go and see those vehicles in action, whether in our app or on our website. Same thing with the aviation sector, with marine. Anything that lends itself naturally to video. We've been doing quite a bit on the wine-and-spirits front with that, too. We'll be doing more of that with some sommeliers. It makes things conversational and doesn't obviate the need for more traditional print content, but complements it nicely.
Folio: What about the print business? There's an idea that the luxury market is kind of resistant to these industry-wide print declines we're seeing. Why is that?
Anderson: As a consumer of content as well as a professional engaged in producing it, I think that there's something about that physical product that just engages you. I've heard time and again from our audience that, as much as they love things like our iPad app, they spend all day looking at devices. At the end of the day when they come home, they just want to disconnect. Flipping through the magazine, the feel of the paper, the glossy pictures, it's a different experience.
I think for luxury, everything is visually-oriented. I think, in general, people like being able to engage with that print product. It's probably not the growth area of our business, but it is kind of the foundation. It's the anchor of the brand and everything else that we do in the digital space helps to support that. Because luxury is, by definition, exclusive and more niche, the metrics—the economics of print publication—are slightly different than with publications that are much larger in terms of circulation. So I think luxury does have an advantage. You're dealing with smaller, but in my opinon, more meaningful members in terms of buying power. We're doing it on such a scale that it's still viable as a business and our audiences are growing organically. The reality of the situation is that affluent audiences are growing. If we decided to try to take the print product away and just do what we did through digital means, I think we would get some serious backlash from our audience.