Luxe Interiors + Design Increases Circulation, Launches New Editions

Summer plans include expansions into two new markets.
[This story first appeared on FOLIO: sister site min.]
Luxe Interiors + Design New York, a regional edition of luxury shelter magazine Luxe Interiors + Design launched in 2011, is increasing its circulation in spring 2014 as the magazine network gears up to release two new regional titles in the summer.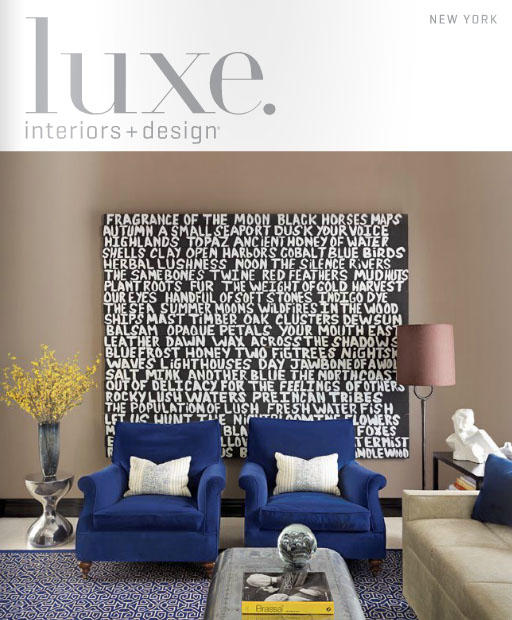 Luxe New York will raise its rate base in 2014 by 30 percent to 65,000 from 50,000 in 2013. Currently, the magazine is distributed in the tri-state area surrounding New York City, including Manhattan, Connecticut, Westchester County, Long Island, the Hamptons and New Jersey. Year-over-year, the magazine has also seen a surge in total ad pages, jumping up 48 percent in 2013 from 2012.
"The circulation of the New York edition…is now the largest of all of our regional editions," says Luxe Group publisher Janice Browne in a statement. "As the numbers show, advertisers continue to respond enthusiastically to what Luxe New York has to offer."
The relationship between the housing market and shelter magazines has been long analyzed. After the housing bubble burst in 2008, home design and décor magazines took a hit, but have since seen a rebound as the industry and economy on the whole have found stability.
Luxe Interiors + Design, a quarterly high-end residential design and architecture magazine launched by publisher Sandow in 2005, has maintained steady growth in both circulation and ad pages over the years despite carrying the highest newsstand cover price in the shelter magazine market at $9.95.
In summer 2014, the magazine plans to launch two new editions—a Luxe New York spin-off special issue focused on the Hamptons community and the debut of the regional Luxe Interiors + Design San Francisco, announced last November. Luxe Interiors + Design Hamptons will distribute an additional 10,000 issues throughout the Hamptons area.
 
These new issues will help boost total circulation 12.5 percent to 450,000 and distribution 13 percent to 525,000 for Luxe Interiors + Design nationally in 2014 from a year ago. Advertising revenue surged 11 percent in 2013 versus 2012 with total ad pages also increasing 8 percent over the same period.
Sandow CEO and chairman Adam I. Sandow contends, "That kind of growth is an indicator that this brand is offering something to both readers and advertises that sets it apart from competitors. "
Competitors, he says in a release, "Who lack the local penetration and relationships that we have in 13 markets across the U.S."
Meet the Author
---