Lucky Mag Grows Online Community With Eye on Sponsorship Ops

User-generated platform blends content, advertising and data.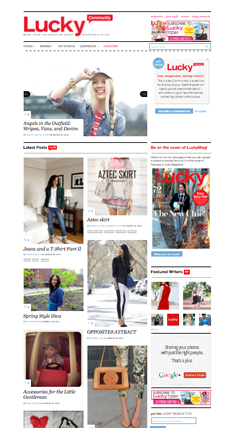 Through a user-generated platform, Lucky magazine's online community now has over 44,000 posts and more than 4,700 contributors that not only helps it to draw readers in, but advertisers as well.
"When we think about the Lucky Community, we think of it as a 360-degree program," says Maura Randall, the brand's digital managing director. "These women also appear in our print magazine, which is our core piece and their content appears across LuckyMag.com. It's a very integrated approach."
Lucky launched its online community in September using the Tid.al platform, which has allowed the brand to not only generate hundreds, if not thousands of contributor posts everyday, but also support some of its key advertising partners.
When a contributor signs up for the Lucky Community, the Tid.al platform builds a profile of them, which incorporates several touch points. The platform actually learns about what people are writing and what their sphere of influence is, and from there it begins to build a profile of them as a contributor and all the content they're creating—either originally through the community or on their own blogs. When a user first registers they attach their Facebook, Twitter and blog and Tid.al begins parsing all the content they're creating and pulling it into their system and analyzing it.
"We organize the content areas, and certainly the contributors do it as well, into several different topic areas—topics that are meaningful to our community and to our readers," says Randall.
One way the community is segmented is through brands. If a user posts about clothing retailer Forever 21, for example, either on the community or their own blog, the system pulls it into the brand tab—giving Forever 21 a prepopulated page of content featuring their products. Tid.al uses data to feed content with posts that are relevant to the community on any number of topics. When Lucky is in talks with Forever 21, they can mention that they've had 6,000 posts submitted about the brand.
"When you can contextually place an advertiser's message, the performance just skyrockets when compared to a run of site program," says Randall. "These are really appealing because they provide a specific message that we know will resonate with the audience."
Contributors can win badges and get the chance to enter contests and be engaged directly with the magazine. Lucky can then fold that into programs they potentially sell as well.
"When we launched the Lucky Style Collective, contributors were hand picked and we published what we really believed in editorially," says John Jannuzzi, Lucky's contributing digital editor. "We worked with them on content sharing, promoting them in the magazine and website and they are also a member of an ad network through us. We saw such success and enthusiasm on their end with the Style Collective that the community and technology that Tid.al has lets us amplify it to a whole new level. With the community, if you have something you'd like to share about your outfit, a makeup tip or shopping tip, it's a place where anyone can come to do that."
See Also: John Jannuzzi, a FOLIO: 15 Under 30

Lucky works together with Tid.al to determine which brands would be best and aligned with their editorial message and mission of the site and community. From there Tid.al creates pin board type pages—if Lucky has a prospect or client that wanted to get involved, the platform could incorporate new brands. Additionally, posts from contributors link directly back to brand websites where users can directly purchase goods.
"Certain brands and advertisers have an affinity to the topics that these women are passionate for and this platform provides them a way to add their own advertorial content but also rich media and other advertising elements to the topic and sort of sponsor that conversation," says Randall. "For our users, the brands that Lucky features and the content, opinions and products from contributors provides meaningful content to the user."
Stay updated on the latest FOLIO: news, follow us on Facebook & Twitter!
Meet the Author
---