Lucky Leverages New Community to Grow Digital Audience

Magazine hopes to double unique visitors with online community by mid-2013.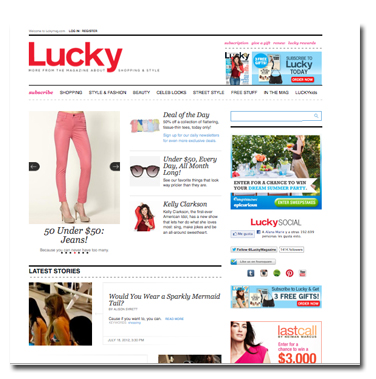 With less than 10 percent duplication between print and Web audiences for Condé Nast's Lucky, the digital side needs different products to keep its visitors engaged. The bonus would be to double monthly traffic to the site and spot emerging trends in the fashion and beauty world.
Enter Appinions, a technology company whose products can spot the most influential online fashionistas and gather their posts and comments on a dashboard that lets users click through to read the entire post and other data around it. Lucky's editors then reach out to those influencers with an invitation to participate in its new Lucky Community, a platform powered by another tech company, Tidal, which will launch in mid-August.
"One pulls in and the other provides the platform, and it's the two together that is the magic moment for us," says Brandon Holley, the magazine's editor-in-chief.
The desired result is far prosaic, of course—it's a bid to grow traffic and engagement on the site. "We hover around 1 million [unique visitors] or just below that per month, depending on the shopping season. We're targeting mid-2013 to double that to 2 million," says Holley. "One of the ways we see doing that is through this partnership with Appinions and Tidal."
Visitors to the site will see a new tab in the home-page navigation bar, "Top Contributors," that will take them to the Community landing page. From there, 25 sub-channels will feature topics from nail art to plus-size fashion and localized discussions.
"In the magazine, I can cover the top trends and really aspirational moments of fashion," says Holley. "With the Community platform, and through the Lucky Style Collective, we can start to get more into peer-to-peer. It could be women in Atlanta who want to talk about vintage clothing stores in Atlanta, for example."
Although the discussions are open to all visitors, Lucky editors choose which posters will be featured on the first page of the Top Contributors section. While some Lucky Style Collective bloggers will no doubt post in the Community section, Holley expects the Community contributors will bring a different perspective.
"This is the way for us to bubble up new voices. It's also a way to start listing to new voices—and those new voices can make their way into the magazine, absolutely."
Advertisers will be able to target ads to separate communities, or across the entire Top Contributors site. "Advertisers seem very comfortable with user-generated content these days," Holley adds. "I remember a time when they weren't, which thankfully is long gone."
Meet the Author
---