Lucky Launches Shopping 'E-Boutique'

First mag shopping platform where editors can curate search, picks.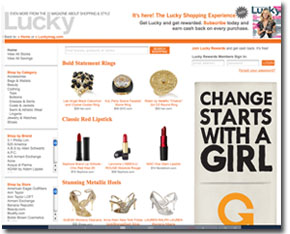 Lucky and shopping service provider Mall Networks recently launched an online shopping experience, pioneering a "fashion and beauty e-boutique" in which the editors can have a say in the search results.
Shopping.luckymag.com, launched November 10 (and accessible from Luckymag.com's shopping index off of the navigation bar), has more than 40 retailers, 450 brands, and 86,000 products selected, of which editors can curate the first 30 new merchandise picks on a daily basis. For readers, shopping.luckymag offers a cash back program for magazine subscribers to earn money with every purchase made.
"What's unique about this platform is that we can curate the search," said Mary Gail Pezzimenti, director of online for Luckymag.com. "It's a very hands-on approach—we're curating click to buy searches daily. We really wanted to house the shopping environment in an editorial environment." While readers and users can do their own product searches, Lucky's "curated" experience comes through its handpicked the stores and brands within the experience, as well as the Mall Networks' tech process, which allows "us to choose items and organize them in search instead of algorithms choosing the options. We post one new curated search every day, and four others once a week," Pezzimenti said. The theory behind this process is that virtually any product that comes up is also one favored by Lucky editors.
According to Pezzimenti, the difference between Lucky's shopping platform and the gaggle of other magazine shopping sites—such as on InStyle, Elle and Glamour—is that other sites partner with existing sites, like StyleFeeder, that allow editors to pick a trend but only let readers search within that shopping aggregator. On other sites, "you see an item and go find it yourself instead of the platform taking you directly to the item," she added.
Over time, editors will highlight the most shared item and the highest selling item, as well as do more 'shop this look' type of content, including street style and weekend shopping, according to Pezzimenti. Lucky also plans to feature four new trends on a weekly basis and anticipates letting readers comparison shop by price, click-to-buy trend stories drafted by the fashion team and category, price point, store, and brand searchability.
Lucky has a longstanding relationship with Mall Networks, which runs the magazine's rewards program. Of Mall Networks' "hundreds of retailers and thousands of brands," so far Lucky has "narrowed down the list to 450" to offer readers, she said.
Pezzimenti said Lucky is taking a three-pronged approach toward revenue generation: ads
served, subscriptions (in order to earn cash back, online users must subscribe to magazine) and affiliate fees from products sold. While she said was too early to cite returns, this year's holiday shopping will be "significant."
Meet the Author
---