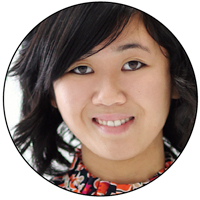 Like so many start-ups, Zooey Magazine launched in a living room.
Editor-in-chief Lucia Tran debuted the publication in 2008 as an online read, connecting with editorial contributors and future staff through the web. Zooey's site now boasts 20,000 unique visitors a month.
Tran often refers to Zooey as an "open diary" for users. Readers are encouraged to contribute to the editorial and art of the publication, which debuted as a bi-monthly print edition in September 2010.
The start-up was funded by a $10,000 loan from one of Tran's relatives. Now, the magazine is making $40,000 in annual revenue and is distributed in Barnes & Noble stores nationwide. Next month, 200 more B & N stores will carry Zooey Magazine.
Currently, Tran's editorial staff is comprised of a photography director, creative director and a dual style editor and beauty director. Staffers are located in Tran's home base of Los Angeles, as well as in New York and in Oklahoma. Working without a central office provides its own special set of challenges, according to Tran. "Everyone sends in their work, and the staff evaluates their portfolios, arranges editorial features, design and carry it all out. It can be rough sometimes, but with the amount of time we spend on these concepts, they come out really well," she says.
Like any new business owner, Tran describes Zooey as a learning process. "My first business mistake was printing costs. Printing on 100 percent recycled paper as your first issue is a little rough to handle, I found out," recalls Tran.
Finding a definitive angle for the editorial has been imperative to Zooey's growth over the past year. In the beginning, Trans says the magazine didn't always include strong or consistent content; now, staff has found a solid model and concept through the idea of "empowerment through entertainment." Tran says, "We're unlike tabloids such as Us Weekly and OK! Magazine. This is a new idea in this [celebrity-focused] business: making a positive change in someone's life. It's why we're here."
Zooey's reader range falls in the 18-34 female demographic, which an average age of 21. Current circulation runs about 1,200 per issue.