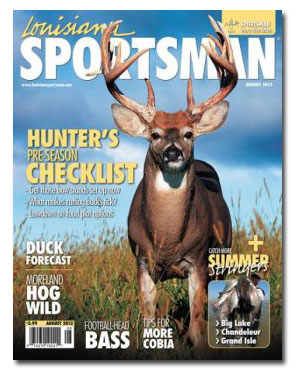 Regional hunting and fishing title Louisiana Sportsman is having some luck with a new campaign developed in partnership with the Louisiana Lottery—more than 1.2 million scratch off tickets with the magazine's logo and imagery are being sold in 1,900 retail outlets around Louisiana from August through November.
According to Tony Taylor, the publisher of the monthly magazine, which normally produces 280 pages and has a circulation of 34,000, the title has already been "reaping some incredible rewards." The partnership with the state's lottery, says Taylor, is an extension of the logo and branding offerings the publisher already has—the publication has sold over 50,000 decals, adding up to about $500,000 a year in logoed apparel sales that promotes the magazine.
"The Louisiana Lottery wanted to hook up with local Louisiana companies," says Taylor of the partnership, which took two years to execute. "The game has now been out about a month and we're the second highest selling ticket ever—they also have $300,000 on the cash end to use on a statewide basis promoting our name and logo on the ticket."
Taylor says one such promotion was at the New Orleans Saints' football game earlier this month. At the New Orleans Superdome stadium, screens showed the lottery ticket with the Louisiana Sportsman logo (below) 10 times to an audience of 100,000.
"This has certainly made us more of a household name than we were before," says Taylor. "We were a household name among folks who hunt and fish, but this has expanded our brand beyond those who are hardcore hunters and fishers to people who are just interested in the outdoors. You can't walk into a convenience store in Louisiana without seeing our logo now. [The Louisiana Lottery] valued the whole promotion at a million and a half dollars. They're promoting our brand across the whole state in a way we could never afford to do."
Taylor says the publication sells about 16,000 copies at newsstands and has seen a slight sales increase at about 3 to 4 percent. While there hasn't been huge growth for immediate sales, Taylor says there is longer-term value in this campaign.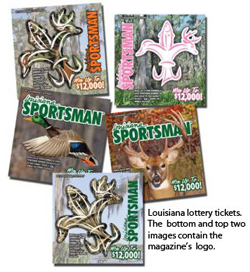 "When our sales representative walks into a local retailer now, his expression is wonderful—they have a lot more confidence advertising with us now because we're now known beyond hardcore hunters and fishers," he says.
On average, the title gets about 150 ad pages a month. In 2012, Louisiana Sportsman's website has steadily grown by about 20 to 30 percent per month when compared to the same time last year, bringing in about 358,000 unique visitors to the site and over 1 million visits in July. Louisiana Sportsman's twitter account has about 2,733 followers and its Facebook page 11,500 fans.
"In South Louisiana we're very well known but in North Louisiana we're not as well known," says Taylor.  "The lottery has been helpful in the areas that we haven't been as strong as we'd like to be. For a regional publisher like myself, anytime you can, partner with other business that are statewide to help promote your brand."