Lots of Smaller Deals Are Driving Media M&A Activity

JEGI: 91 percent of transactions in first three quarters were under $50 million.
Media, information and marketing acquisition volume and value continue to grow according to a third-quarter M&A report released by media bankers The Jordan, Edmiston Group. Year-to-date deal volume pace has been driven primarily by smaller, sub-$50 million transactions, however, with strategic buyers accounting for the vast majority.
The report says deal volume is up 49 percent for the first three quarters over the same period last year to 946—91 percent of the deals were below $50 million.
Total value is up 52 percent to $49 billion, with a chunk of that represented by nine deals breaking the $1 billion mark—Alibaba's buyback of Yahoo's stake for $7.1 billion, Facebook's $1 billion Instagram deal and Recruit's acquisition of Indeed for $1 billion among them.
Total value for the first three quarters has already surpassed the $47 billion, full-year deal value for 2011.
Strategic buyers, says the report, accounted for 85 percent of the deals. Yet, JEGI says many have yet to dip into strong capital reserves to make acquisitions themselves. Their shaky confidence reveals a disparity between buyers needing an acquisition to diversify revenues and dramatically shift business models versus those with less risk tolerance for transformative deals.
However, if that confidence returns in the next three-to-six months, JEGI thinks 2013 could be another strong media M&A year with the addition of another contributing factor—private equity is entering a use-it-or-lose-it phase.
Capital raised by private equity firms has to be used within a five-year window or it's relinquished, notes JEGI. Given that 2007 was such a huge year for deals and financing in general, that five-year window is about to close.
Marketing and technology continues to dominate the acquisition landscape, with 384 deals through the third quarter worth a combined $16.5 billion, up 81 percent in volume and 89 percent in value versus 2011.
Other highlights include a more active exhibitions and conferences market, with 39 deals worth $648 million through the third quarter—up 117 percent in volume and 74 percent in value versus 2011.
B-to-b media deals jumped to 24, worth $235 million, which is up 118 percent in volume and 526 percent in value.
Consumer magazine deals are increasing (up 80 percent), but values are on the decline (down 89 percent)—representing the smaller tuck-in nature of that market's deal activity.
Mobile media and tech continues to be an active market, with deal volume up 89 percent to just over $3 billion.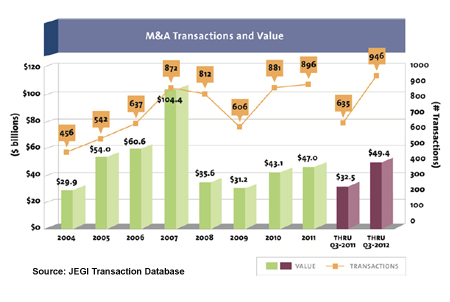 Meet the Author
---