Looking for a Deeper Connection Between Print and Mobile

How publishers are building direct links from magazine to app.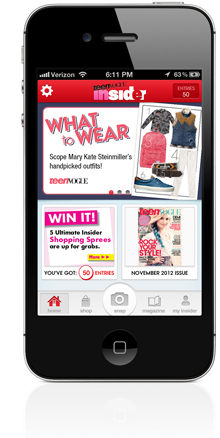 Publishers are driving engagement between the print and digital platforms by linking magazines directly to mobile. Standalone mobile products these days are a given, but publishers are also looking for ways to extend the print experience into new areas of a reader's life, and mobile devices are the gateway.
"We're connecting print to mobile, and doing it in ways we haven't done before, because we really believe we're well positioned with our demographic—they are glued to their phone," says Jason Wagenheim, vice president and publisher of Teen Vogue. "We did a study earlier this year that found that 9 out of 10 of our readers are shopping with their mobile phones. They're not just making purchases, but using their phone while they're shopping, searching for coupons and texting friends photos of dresses when they're out in a store."
Attaching Apps to Print
Based on the knowledge of audience habits, the magazine developed a strategy to bring the mobile experience to the magazine, while connecting advertisers and editorial content. The result was the Teen Vogue Insider app, which is a companion to the magazine. It allows readers to "like" and share brands on Facebook, Twitter and over email as well as map nearby locations to make purchases. Slideshows and videos from an advertiser, or the editors, are also available. Finally, discounts and special offers are also pushed out through the app.
The app is updated to coincide with every issue of Teen Vogue, further tying the mobile experience to print. By having it as a companion to every single issue, Wagenheim says the brand is changing reader behavior that will enhance attachment to the print magazine.
"The app is promoted in every issue with advertising and editorial," he says. "There's also a directory featuring all of the pages within the magazine that can be activated with a mobile scan—we use image recognition, not QR codes. You can use the app to scan pages in the magazine to launch these engagements."
As of press time, the app has been downloaded 80,000 times in the three months since its launch; there have been over 250,000 scans of magazine pages and over 550,000 user sessions.
Every Page Mobile-ized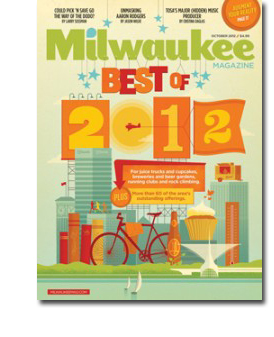 Like Teen Vogue, city and regional consumer publication Milwaukee Magazine is also mobile-enabling its printed pages.
"We've gone cover to cover," says Linda Lundeen, associate publisher of Milwaukee Magazine.
In this joint project with Quad Graphics, which owns Milwaukee Magazine, every last page—from ad to edit—was integrated with unique mobile experiences. The October "Best of 2012" issue features 146 image recognition and augmented reality experiences that readers can launch with an easily downloadable app enabled for smartphones and other mobile tablet devices. Readers can go behind the scenes of a music studio, see a 3D gold watch pop off the page, hear a restaurant critic narrate dining listings, kick extra points on a virtual football field and more. The free app interacts with print to automatically launch videos, view product options and accessories, and make purchases.
"We offered the more robust experience for advertisers if they took out a full-page ad, which is why some increased or added insertions," says Lundeen. "They wanted to be apart of this."
Lundeen told many of her advertisers, which are local to Milwaukee, that the ads would be enhanced through basic additional content features—more pictures or video they already had in their possession. Through the analytics, she adds, the publication can see which elements and pages were interacted with most, also enhancing insights for both the editorial staff and advertisers. As of press time, the app for the issue had been downloaded over 100,000 times.
"They were put at ease—they thought it was fascinating and realized they could be apart of it," she said. "It wasn't too high-tech that they couldn't been involved. Being in a smaller market and city publication we can still have this opportunity to learn and grow with the technology."
Meet the Author
---