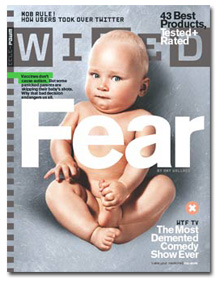 The stampede of iPad application unveilings has begun.
Time Inc.'s Sports Illustrated was the first, that I recall, to roll out a video demo of the splashy app it's been developing for Apple's iPad device. Now comes Condé Nast's Wired, which on Tuesday posted a video to its Web site promoting its new "Wired Reader" app. Back in November, Wired said it was working with Adobe to build a magazine application that will enable the publisher to deploy its magazines on a number of digital devices, including computers, smartphones and color e-readers—including the iPad. They were using Adobe's Air free cross-platform runtime—a piece of foundation software that can run different programs on top of it.
See the Wired video below.
In the post yesterday, Wired editor Chris Anderson called the iPad tablet a "groundbreaking opportunity for magazines such as ours." "The point here is that we are entering a new era of media, where we finally have a digital platform that allows us to retain all the rich visual features of high-gloss print, from lavish design to glorious photography, while augmenting it with video, animations, additional content and full interactivity."
Anderson noted that although the Wired Reader starts as an Air app, Adobe has created tools that allow publishers to convert it for tablet and mobile platforms. The project was officially unveiled last week at the Technology, Entertainment and Design conference.
In Wired's four-minute video, Anderson called the project an "opportunity to reset the economics. For the first time, people may value this experience so much that they'll pay for it." Presumably he's talking not only about readers but advertisers, too.
From watching the video, it appears that Wired is doing a pretty impressive job of bringing the printed, glossy page to life in a digital platform with video, scrolling, zoom and other spiffy navigation features. The app also incorporates social media functionality like story sharing and Twitter/Facebook access.
Kudos to Wired. The video doesn't explain away a lot of the issues publishers are grappling with—R&D costs, design, pricing, etc.—but I wouldn't expect it to. As Condé Nast continues to develop iPad apps for GQ and Vanity Fair, this looks like a solid step in the right direction.