A Look at the 'Gourmet Live' iPad App

Social aspect sets it apart from other apps on the market, Condé says.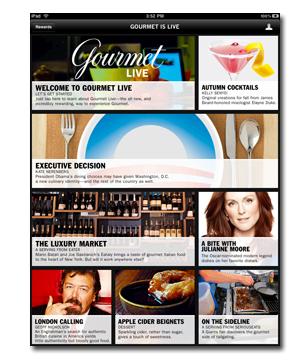 Back in June, Condé Nast said it planned to bring back the Gourmet brand as "Gourmet Live," a digital product developed in HTML5 that would be available across multiple devices and platforms. And it delivered. The innovative app for the iPad hit Apple's iTunes store today. Chock full of stories from the magazine (which Condé closed down last fall), recipes, videos and slideshows, Gourmet Live is free and content is available without registration.
However, Condé says users need to sign in to Facebook or Twitter in order to access the app's interactive features. It's this social aspect that Condé says sets Gourmet Live apart from other apps on the market right now.
"Condé Nast is the first content company to launch a digital product powered by social gaming mechanics making Gourmet Live profoundly different in the way that users engage with the experience," Condé Nast Consumer Marketing creative marketing director and Gourmet Live general manager Juliana Stock tells me. "Social sign-in, via Facebook and Twitter, allow users the option to share their activities within Gourmet Live if they want, such as earning a collection of recipes about pasta after reading a story about Eatly or a collection of grilling tips and recipes after reading an article about tailgating."
Stock says that in drawing inspiration from "the popular and the familiar," Gourmet Live offers a clean reading experience as well as "a shelf that organizes rewards and history, similar in user interface to insta-paper and iBooks.  Gourmet Live hosts all the components of a memorable meal: great company—your friends on social networks, high quality ingredients—the content and programming, and beautiful presentation—all these pieces coming together."
You be the judge. If you don't own an iPad and/or haven't already seen the app, check out the video demo below. ."
Meet the Author
---