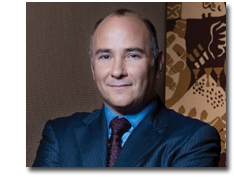 e5 Global Media, the company that recently acquired eight media/entertainment brands from Nielsen Business Media, announced Tuesday that Richard D. Beckman will serve as CEO. Most recently, Beckman served as president and chief executive of Condé Nast's Fairchild Fashion Group, a position he held for roughly nine months.
According to e5 chairman and Jim Finkelstein, Beckman's "brilliance and imagination will be a perfect fit for e5's portfolio of assets." e5 was founded formed by private equity firm Pluribus Capital Management and financial services firm Guggenheim Partners in the acquisition of The Hollywood Reporter, Billboard and six other media properties from Nielsen Business Media. Finkelstein co-founded Pluribus.
"It is my job now to build an important media business in areas that I'm very passionate about," Beckman [pictured] told FOLIO:. "These are iconic brands within their industries. It will be my goal, now, to build them into successful multiplatform properties with global footprints."
Beckman joined Condé Nast 24 years ago as a sales representative at The New Yorker. Before taking the helm at the Fairchild Fashion Group, he served as president of Conde Nast Media Group and chief marketing officer of Conde Nast Publications.
A Condé Nast spokesperson said specific timing is not in place to name a replacement for Beckman, although an announcement will be "forthcoming."