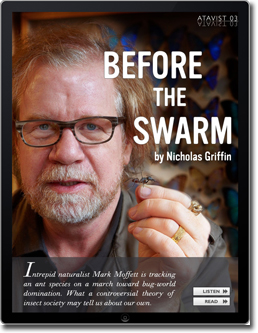 As most publishers are scrambling to compact content (call it the Twitter effect), one company is bringing lengthy journalistic stories to digital devices.
Evan Ratliff (contributing editor at Wired Magazine, editor for Pop-Up magazine and writer for The New Yorker, Outside, Men's Journal and National Geographic) and Jefferson Rabb (programmer and Web designer for authors like Haruki Murakami and Jhumpa Lahiri) launched The Atavist in late January.
The business of The Atavist can be divided into two parts: the boutique publishing house publishing long form (6,000 – 30,000 words) narrative journalism and nonfiction pieces for digital devices like the iPhone, iPad, Kindle and Nook; and the technology company that designed a CMS to help publishers of all walks publish content into an app.
The stories are being sold for $1.99 each on the Kindle and Nook (as a text and photo version), and for $2.99 in the app (which gives the user a multi-media experience).
While there is not currently a subscription model in use, Ratliff said there will hopefully be one developed in time for the fifth story's release (three are currently available). Subs will most likely be available through bundle packages; a user will purchase a certain number of articles, as opposed to signing up for a more traditional monthly model. Story turnover typically takes four to six weeks, and will likely remain that way until The Atavist has the resources to expand the staff. Rabb and Ratliff run the company with the help of an intern – and both Rabb and Ratliff currently remain unpaid.
On author selection, Ratliff said, "Because we're so, so small, we have a tendency to go for writers who we know can deliver a long story. [If] we spend our writer's fee, and the story doesn't work out, we aren't as well off as larger magazines that can over assign then kill off stories. Each story's a little more precious for us."
The app version of stories often includes video and other add-ons to enrich the reading experience. Videos stray away from the traditional author interview, and become an integral part of the storytelling. "Lifted", the second issue of The Atavist, features surveillance footage at the beginning of the narrative. "Piano Demon" includes a musical soundtrack from the featured jazz musician in the story. An audio version is available, as well "inline extras," pop-ups that include extra insight such as character lists, bylines and maps.
The audio capability allows users to go between text and audio versions, keeping track of where the user left off in reading the content.
The Atavist team developed a CMS system that allows users to publish content into an app, which also creates e-pub and mobile versions of the content. Ratliff said they have plans to monetize the technology through partnerships with other publishers. Interested parties have included not only magazine and book publishers, but educational, financial and parties from the medical field as well.
Ratliff said, "We haven't signed the first contract yet, but we're currently in a beta agreement with a couple of organizations."
Created primarily for use with Apple products (which presents some complexity when developing a number based sub model), The Atavist is slated to enter the Android market within the upcoming months.