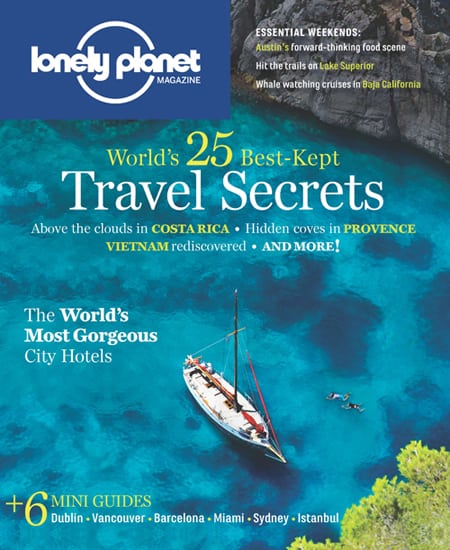 Lonely Planet is joining a crowded print media market with a new U.S. edition of its magazine. Launched in 2008 in the U.K., Lonely Planet Magazine already has 10 international editions, but is just now strengthening its presence what's becoming its most important market.
Lonely Planet Magazine will launch as a quarterly in September with a guaranteed rate base of 450,000 and a $5.99 cover price. Piers Pickard, managing director of publishing for Lonely Planet, says it will be ad supported, sold on newsstands and offered via subscription.
"For us, the U.S. is important territory, our most important territory," he says.
The company, which has been publishing travel guide books for 40 years, is trading on its brand recognition here in the U.S. and Pickard points out that travel is on the upswing. International travel increased 10 percent in 2014, he says, and domestic travel is up as well. Both of those trends have contributed to increased Lonely Planet book sales in recent years, he adds.
The travel magazine category, relative to the rest of the industry, has been maintaining overall circulation, or growing, according to Alliance for Audited Media publisher statements. While newsstand sales are a challenge, paid circulation is either flat or up for titles like Afar, National Geographic Traveler, Travel + Leisure and Condé Nast Traveler.
Lauren Finney, previously a senior editor at luxe regional publisher Niche Media, is the magazine's editor.
The title fits into Lonely Planet's content model as a source of inspiration for travel enthusiasts looking for authentic travel experiences.
While the guidebooks offer practical information on destinations, the magazine, says Pickard, will be more aspirational.
"The magazine does for the customer what a website and guidebook can't do," he says. "It gives us a fantastic tool for inspiring travel. The photography is beautiful, there's excitement. It's an incredible way of showcasing the world."
The guidebooks also come with an installed base of travel writers, who will be tapped to contribute content to the magazine.
The magazine will not have its own website, but content will be tucked into Lonely Planet's main website. Digital editions will be available across newsstands such as Apple Newsstand and Zinio.