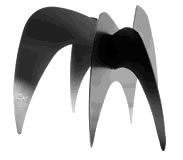 The consumer magazine elite will gather tonight at 583 Park Avenue for one of the biggest events in publishing–the 46th annual presentation of the American Society of Magazine Editor's National Magazine Awards (nicknamed the Ellies).
In addition to the usual hour-long block of power networking (and power drinking), the sold-out event includes a sit-down dinner for the first time in its history, hosted by ASME.
A total of 20 magazines received multiple nominations this year, with Conde Nast leading the pack at 25 (accounting for nearly a quarter of the total nominations–The New Yorker racked up 9 nods on its own). New York, The New York Times Magazine and Virginia Quarterly Review all received six nominations while first-timers include Cooking Light, House Beautiful, Lapham's Quarterly, OnEarth, The Sun and Women's Health). Close to 270 magazines submitted a total of 1,673 entries judged by 359 magazine journalists and journalism educators. A full list of finalists is available here.
Will Conde Nast dominate the winner's circle or will some of the first-timers and smaller publications (including 3,000-circ. The Antioch Review) break through? Who will the surprise celebrity presenters be and will author and New Journalism founder Tom Wolfe (who is receiving the Creative Excellence Award tonight) challenge Anna Wintour for sartorial splendor?
FOLIO: will be there live-tweeting, keeping you posted minute-by-minute. We'll also be cross-posting our tweets here, so keep refreshing this link as the evening progresses (the awards kick off around 7:45 EST).
@foliomag.com: The 2011 National Magazine Awards begin. Press seating redefines "elbow room." Fortunately I have six years of Krav Maga.
@foliomag.com: First-time nominee Women's Health wins General Excellence, fashion, service, lifestyle. Follows up on Men's Health's win for General Excellence last year.
@foliomag.com: Los Angeles wins for Best Feature Writing. Editor Mary Melton: "It's a delight working for a company that appreciates journalism." Applause.
@foliomag.com: ESPN the Magazine win Best Feature Photography for "Bodies We Want." Go figure.
@foliomag.com: Dinner break. What lasts longer, an iMac battery or the National Magazine Awards? 
@foliomag.com: Attendees wonder–where is rumored host Katie Couric?
@foliomag.com: Katie Couric in the house! "You magazine people are really fun."
@foliomag.com: Couric :"There's nothing I like better at the end of the day than relaxing with my copy of Garden & Gun. Table 33, I'm looking at you."
@foliomag.com: Winner, General Excellence, literary, political, professional: Poetry Magazine 
@foliomag.com: Excellence in magazine design goes to GQ. Designer Fred Woodward: "I should thank every editor and publisher who let me learn how to do this under their watch."
@foliomag.com: Couric: "No offense, but now I know why none of you guys went into television."
@foliomag.com: Men's Journal wins Leisure Interests. "Five Meals Every man Should Master."
@foliomag.com: Personal Service category. Random dog returns for second time onstage.  Men's Health wins for "I Want My Prostate Back."
@foliomag.com: General Excellence: Special Interest Magazines: Los Angeles takes top prize again! This coming off big win at last week's City & Regional Magazine Awards.
@foliomag.com: Los Angeles editor Mary Shelton hefts Ellie Award: 'The real test will be getting this through TSA tomorrow."
@foliomag.com: Public Interest, The New Yorker for "Letting Go." EIC David Remnick: "There are many ways to have a good day in the mag biz. Ours is to see our app passing 'Angry Birds' on iTunes."
@foliomag.com: The New Yorker wins Public Interest category
@foliomag.com: News and Documentary Photography: The New York Times Magazine wins for "The Shrine Down the Hall."   EIC Gerald Marzorati–"Really excited."
@foliomag.com: Best Magazine Section goes to New York for "Strategist," EIC Adam Moss: "A magazine section that's nearly a magazine itself."
@foliomag.com: Single Topic issue with presenter/magician David Copperfield! National Geographic wins for "Water: Our Thirsty World."
@foliomag.com: General Excellence, Finance, Tech and Lifetsyle: David Copperfield magically opens envelope–Scientific American wins.
@foliomag.com: Copperfield: "Best advice I ever had was to move the show along." No kidding, Dave.
@foliomag.com: Jan Wenner to present Tom Wolfe with "Creative Excellence" award. Jan dons whitish suit in tribute.
@foliomag.com: Tom Wolfe: "I just hope everyone notices how fabulous Jan looks tonight."
@foliomag.com: The New York Times Magazine wins again, this time in the Profile Writing category for 'The Man the White House Wakes Up To." Guessing it's not Couric. 
@foliomag.com: Couric's favorite mag, Garden & Gun, takes General Excellence award in Food, Travel and Design. 
@foliomag.com: Harper's Magazine takes the Reporting category with "The Guantanamo Suicides."
@foliomag.com: W, for Best Photography
@foliomag.com:  New York again, for General Excellence in News, Sports and Entertainment
@foliomag.com: And Magazine of the Year goes to…National Geographic!