Liveblogging the Ellies

Refresh this page for live updates from the 2008 National Magazine Awards.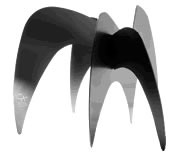 A FOLIO: Blog programming note: We'll be
"liveblogging" during tonight's National Magazine Awards gala inside
Rose Hall, Jazz @ Lincoln Center in New York. Check our guide to the races—"Handicapping
the Ellies"—refresh this page throughout the night for the
minute-by-minute highlights, and join the conversation in the comments section below.
6:00PM EST: Cocktail party begins, promptly. Magazine editors love an open bar. Clearly.
6:45PM EST: Annie Leibovitz arrives. No sign of Miley Cyrus.
7:39PM EST: Cocktails end, awards ceremony begins with nondescript jazz, courtesy of the house band.
7:41PM EST: Glamour's Cindi Leive: Magazines "first developed form of journalism three centuries ago." Unrelated question: Is it possible to fact-check while live-blogging?
7:46PM EST: First Ellie goes to … Print, beating out Aperture, Georgia Review, Metropolis, and the Virginia Quarterly Review for general excellence for magazines under 100,000 in circulation.
7:47PM EST: Anderson Cooper hands out Ellie for excellence in reporting (National Geographic, beating out the New Yorker) and reviews and criticism (the Atlantic, also beating out the New Yorker).
7:55PM EST: Legendary Harper's editor Lewis Lapham presents the award for feature writing. First real upset of the night: Atlanta magazine wins its first Ellie (New York's profile of Gawker, "Everybody Sucks," had been the loose favorite). Also first tears of the evening, courtesy of editor Rebecca Burns.
7:59PM EST: Mother Jones wins in the wide-open general excellence, 100,000-250,000 circ category (Paste, Philadelphia, Radar and Foreign Policy were the other nominees).
8:04PM EST: Vanity Fair wins the profile writing Ellie. Here comes Graydon Carter, fresh off an emergency root canal, to accept the award. Thankfully, no references to the "back, the crack, the sack" from Carter this year.
8:05PM EST: Top Chef host Padma Lakshmi compares editing a magazine to developing a "fire in the loins." I'm awake now, thanks.
8:11PM EST: Upset number two. Backpacker steals general excellence (250,000-500,000 circulation) from heavily-favored New York magazine. Jonathan Dorn quips: "Sorry Adam, at least you inhabited my dreams for a month."
8:15PM EST: Legendary Esquire art director George Lois, he of the Museum of Modern Art-hung cover, presents the Ellie for design. Wired, justifiably, wins their second. Scott Dadich calls it "the highlight of my career, to accept this from George Lois."
8:20PM EST: Players Club founder and former New York Mets centerfielder Lenny Dykstra: "Let's get the biggest question out of the way. 'What the hell is Lenny Dykstra doing here? Sure, he's one of baseball's greatest success stories …'" Popular Mechanics wins for personal service, while BusinessWeek snags the award for personal service online.
8:26PM EST: Speaking of baseball, ASME is pitching a New York, New Yorker shut-out so far. But it's early.
8:35PM EST: National Geographic wins its second Ellie of the night, for photojournalism, and 17th all-time.
8:38PM EST: While presenting the Ellie for leisure interests, 30 Rock's Judah Friedlander explains he's into "medium-core porn," because "hardcore is too hard."
8:40PM EST: New York magazine shut-out is broken; Adam Moss accepts for "Cartography: The Complete Road Map to New York City Street Food." (Note to self: May need that guide after this show.)
8:48PM EST: New Yorker shut-out still intact. The Nation wins for public interest.
8:52PM EST: Shut-out over. The New Yorker wins its first Ellie of the night, its 47th.
8:55PM EST: While serving the award for single-topic issue, Julian Niccolini, Four Seasons restaurateur, says his favorite single topic "is women, with Pinot Noir a close second."
8:59PM EST: Upset number three. Conde Nast's $100 million-plus business magazine launch, Portfolio, wins (magazine section) in its first year of publication, beating Esquire and Wired in doing so. Editor Joanne Lipman says she's "shocked."
9:03PM EST: Vanity Fair wins its second Ellie of the night, for a Leibovitz photo portfolio.
9:09PM EST: Runner's World wins the race for general excellence online, outpacing Babble, the New Yorker and Slate.
9:13PM EST: Rolling Stone's Matt Taibbi wins for columns and commentary. (Yesterday, when Taibbi was asked how he thought the Democratic race would end, he said: "In a pool of my own blood in a hotel somewhere." OK …)
9:18PM EST: New Letters, a literary magazine, wins the essay Ellie (beating a field that included the New Yorker) for a piece entitled "I Am Joe's Prostate."
9:20PM EST: The big award of the night: general excellence, circulation above 2,000,000: National Geographic, which beat Glamour, People and Time for the honor.
Click here for more coverage, and here for the full list of winners.
Meet the Author
---