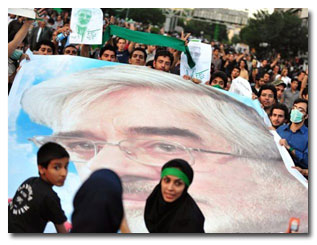 While the Iranian government has barred established media organizations from the country, it's having less success with onsite, organic reporting being transmitted online (despite attempts to slow connection speeds and government-sanctioned hackers trashing Web sites and threatening posters).
Many media outlets are turning to Twitter for coverage, including the Atlantic, which has averaged more than one million page views each day this week thanks in large part to its continuous "Live-Tweeting the Revolution" on Atlantic.com writer Andrew Sullivan's Daily Dish blog.
On Monday, the site hit 1.2 million page views, its largest since the November 2008 presidential election, according to an Atlantic spokesperson.
To compile the tweets, one of Sullivan's assistants is using an RSS reader to search through more than 1,000 blogs for Iran coverage. Another assistant reads through all of the various tweets coming out of Iran and compiles them in the "Live-Tweeting The Revolution" post. Meanwhile, Sullivan looks through his Daily Dish inbox, which gets between 400 and 500 messages a day. Those readers tip him off to breaking news and interesting commentary. Farsi-speaking readers are translating or summarizing stories and sending them to Sullivan, who links to them and asks readers to translate.
Some sample Tweets:
"My mother just spoke to relatives in Shahrak-e-Gharb, who live in apartments (luckily). Hundreds of homes, the street ruined."

"According to hospital doctors in Iran the attacks on civilians are from the chest up. they are taking and burrying the bodies b4 family sees"

"New Worst Offender @Persian_Guy sending false RTs from reputable users and misinformation. Ignore."
The tweets can be maddeningly cryptic (a Twitter neophyte, I'm embarrassed to say I automatically clicked on the first few posts that caught my eye, thinking it would take me to more in-depth coverage), they often get repetitive and there's obviously no way to check the veracity of the post or who it's coming from (the tweets out of Iran seem to be drawing a growing number of government plants). However, it offers a visceral, first person account to one of the biggest stories of the year.
It also puts the Atlantic, one of the longest-running stewards of long-form print journalism, among the media outlets at the forefront, covering this story in real time.