LinkedIn Gets Into the Personalized B-to-B News Business

LinkedIn Today creates personalized news page.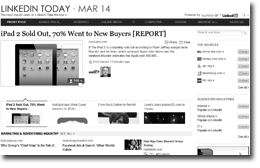 This story first appears on FOLIO: sister site minonline.
Professional social network LinkedIn has launched a beta version of a business news aggregation service that targets user interests based on what that member's connection and industry leaders are reading and sharing. LinkedIn Today pulls together news from a range of business and consumer information sources into a personalized news page of headlines and blurbs. See video walkthrough below.
According to LinkedIn, the aggregations takes three "social views" of the news for the reader. LinkedIn looks at the news that is being shared among your connections in the social network to determine relevance. The algorithms also look at news in your industry generally to see what others in that industry and outside of your network deem important. And finally, the system also sees what stories are trending across all industries and adds those to the personalized front page.
Each story on LinkedIn Today lets the user drill down to see who is sharing the story as well as any conversations sprouting around the item. The user can filter results further by company and industry. The service reaches out to Twitter to see what conversations and sharing is going on around business stories in that micro-blog network.
LinkedIn has added the personalized news feature to its iPhone application where the user can see what peers are reading and save articles for later reading online. Articles saved at LinkedIn on the Web will be accessible via the iPhone.
Clearly this is an opportunity for publishers to tap another distribution venue, if in fact their readers can share articles through the LinkedIn system. On the test pages we tried at LinkedIn Today (which featured Marketing and Advertising, Internet, Online Media, IT) the main sources cited were from mainstream consumer news sources like CNNMoney, WSJ, SFGate, But we also found a number of items from HBR.org, Bloomberg, Mashable and TechCrunch. When we drilled into more specific verticals like IT the aggregation sources tended to be larger blogs like GigaOM, Engadget, and SearchEngineLand, although PCWorld did show up once and the full list of sources included b2b media like WWD.com, Variety.com, FT.com and Billboard. This gives publishers one more reason to feature a LinkedIn sharing tool on their articles.
Meet the Author
---