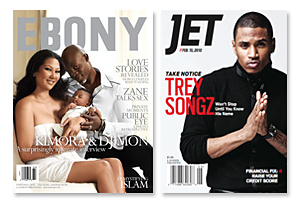 The apparent game of musical chairs among consumer magazine publishing's top execs continues Tuesday as Desiree Rogers is named CEO of Ebony and Jet publisher Johnson Publishing. Current chairman and CEO Linda Johnson Rice—whose father founded the company in 1945—will remain with the company as chairman.
Rogers, a former White House social secretary who stepped down in February, joined Chicago-based Johnson Publishing in June as a consultant.
Last month, Anne Sempowski Ward resigned as president and COO. It was rumored at the time that Rogers was being eyed as Ward's replacement.
Before taking the helm as CEO in April 2002, Rice served as president and COO. Before that Rice held positions including vice president and special assistant to the publisher and fashion coordinator for the Ebony Fashion Fair.
Through the first half of 2010, Ebony magazine's advertising pages declined 26 percent while Jet's fell 30.2 percent, according to PIB figures. Both titles have recently been revamped editorially.