Lightwave

Eddie Winner: Best Series of Articles, B-to-B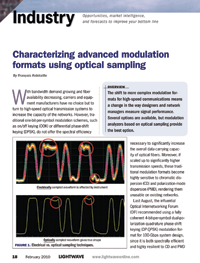 Lightwave, a digital-only b-to-b publication serving a tightly targeted audience, was faced with how to best inform its readers about new breakthroughs in optical communications testing equipment.
In a nutshell, ever-evolving optical communications technology that supports 40 and 100 Gigabit per second transmission requires new signal modulation formats. Further, evaluating how well the equipment using these new formats performs required new testing methods that most of Lightwave's readers weren't familiar with.
"It turned out that the testing suppliers were basically in three camps in terms of the best method for testing these new modulation formats," explains Stephen Hardy, editorial director and associate publisher. "Our editorial staff had already published an article describing the different approaches in general terms, and I thought we could best serve our readers by following up and having some of the vendors explain their testing theories in more technical depth."
Lightwave allowed three leading vendors to contribute articles that made the cases for their different test technology approaches. "We gave the vendors clear guidelines on what we would accept regarding content, and restricted them to a 2,000 word limit," says Hardy.
The articles ran online, basically side-by-side, so readers could compare and contrast each company's approach.  The articles presented the readers with a balanced array of opinions, as one vendor is the largest in the industry; another is a mid-sized supplier; and the third is the only company championing a particular testing method. Each piece had a link to the individual vendor Web sites, if readers decided they needed more information on a particular method.
While vendors are regular contributors to Lightwave, this series was slightly different. "Readers could evaluate the technologies strictly from a technical standpoint, without a lot of marketing hype," says Hardy. "The vendors themselves told us they received positive feedback in terms of how helpful the articles were, and we could tell just by the click-through numbers just how popular this series actually was."
Meet the Author
---