Time Inc. Sees LIFE.com, SI Golf Group Grow

LIFE.com, Sports Illustrated Golf Group on the rise with page views, ad sales.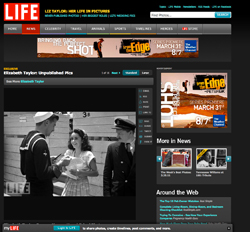 LIFE magazine, started in 1936 by Time Inc. founder Henry Luce, has found new life in LIFE.com.
LIFE.com launched on March 31st, 2009 in partnership with Getty Images. Since its launch, LIFE.com has taken advantage of the unlimited space allowed outside of the printed page to create a website that exists through photo journalism.
Bill Shapiro, editor of LIFE.com, says that life has employed about a hundred photographers over the years, and the website is an opportunity to use many of the pictures that never made it to the print page. Shapiro says, "A photographer would travel the world and come back with hundreds of photographs for a four page story – and only six photos [would make it to] the story." These pictures that never made the print cut are resurfacing on LIFE.com through photo galleries, some which feature as many as 20 – 30 shots.
LIFE.com has also changed its approach to content since the transition to the web. The print magazine featured long-form journalism, as well as captioned photo stories. LIFE.com only publishes photos with short captions; links to sources such as Time or CNN are provided if more information is needed than what can be summarized in a few sentences.
Shapiro points out that while viewers may not realize it, but they eventually end up consuming a fair amount of content when scrolling through an entire photo gallery.
Viewers average about 17 page views per visit to the site, with news and celebrity section being the most visited areas of LIFE.com.
Shapiro said that the strategy for engaging users involves LIFE.com's use of galleries to expand on a subject. After Elizabeth Taylor's passing, staffers created several photo galleries featuring the actress, each focusing on a different facet of her life: her movies occupied one gallery, her lovers another, and so on. LIFE.com also has a "Life in HD" feature, which allows users to "dim the lights" (blacking out the area surrounding the picture), enhancing the colors and image itself.
March saw record pageviews, with more than 100 million views at time of print. On the day of Taylor's death, LIFE.com was hit with 10 million views.
Advertiser interest in LIFE.com. Though numbers were not shared, Shapiro reports a "significant growth" in advertiser interest over the past year.
LIFE.com's free ad-supported iPad app has seen over 600,000 downloads since its launch in October 2010. The app features a global map which users can scroll over and visit countries through photo galleries pertaining to the chosen location.
Shapiro says, "You can explain LIFE.com's growing popularity by looking in your pocket: everyone walks around with a camera these days. Our culture is becoming more and more visually-oriented every day, and LIFE.com is telling stories the way people want to experience them."
The Sports Illustrated Golf Group is seeing their share of success as well. With the upcoming Masters tournament, ad sales are up – SI's Golf Plus Master's Preview Issue included 40 ad pages, with new additions from Ford and Nike Golf. SI Golf Plus saw an increase in ad pages 35 percent in 2011's first quarter from 2010's first quarter.
SI is also looking to get a piece of the $2.5 billion golf equipment industry, with a partnership with golfsmith.com. Since SI Golf Group surveyed consumers and launched the See-Try-Buy program in 2009, equipment ad sales are up 16.4 percent. The editorially-focused program involves staffers trying out equipment and writing up reviews to share with readers (golf equipment consumers typically have a yearly buying cycle, according to a rep from SI Golf Group).Golfsmith.com has increased spending with the Golf Group since the program has launched.
April ad sales for the April issue of Golf magazine are also up, with a 26 percent increase from April 2010's ad numbers.
Meet the Author
---