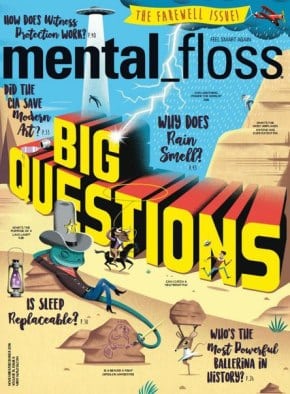 2016 had its share of losses, but not all of them were tragic. Mental Floss, for instance, said goodbye to its print magazine at the end of the year, after a short, but fun, 15-year run. And while many were saddened or disappointed to see the unique magazine go, the brand pledged to forge ahead as a digital-only publication. To some in this industry, folding a print magazine can be interpreted as the beginning of the end, but the Dennis Publishing brand doesn't see it that way. In fact, it argues that shedding its print product opens new doors.
With that in mind, we wanted to check back in on Mental Floss to hear how its digital-only life is going thus far and find out what's next. We reached out to EVP and Publisher Amie Deutch and Editorial Director Ethan Trex.
Folio: Now that Mental Floss is digital only, what new products have you developed for your partners?
Amie Deutch: The decision to fold the magazine wasn't necessarily a difficult one. One of the interesting things about us is that we have an ecosystem of about 20 million readers, whereas the magazine only had 125,000. So now those print resources are being devoted to video and the website, which is undergoing a redesign. We will also be focusing more on branded content.
Folio: What about from an editorial standpoint, Ethan?
Ethan Trex: We are really trying to stick with what works well for our digital audience. We don't want to just pour products from the magazine over to the web. But we do want to keep that editorial spirit and maintain the trust we earned. The playbook is already there.
Folio: You had a unique niche in print, but there are so many digital publications with, dare I say, quirky, smart content. How does Mental Floss stand out?
Trex: Part of it is from our pedigree of having a magazine for years. It gave us credibility. You can look at lots of sites on the web that make promises, but we have a 15-year history that people know and know that it's accurate.
Deutch: From a business standpoint, that legacy of being grounded in a print product is important. But I think Mental Floss is about discovery. Maybe you weren't aware of Mental Floss until someone shared a story, but once you found us you fell in love with the brand. I think our unique voice is inviting. We aren't snarky. We don't talk down to our readers. While we can distill key points from a complicated subject, it's still a very inviting environment.
Folio: What do you see as the biggest challenge for your brand in 2017?
Deutch: I could get on a soapbox and talk about programmatic. I think it serves its place, but I think publisher brands should matter. What we offer is great content in an environment that is meaningful to the reader—and that's what an advertiser wants. Our job in 2017 is to make the pendulum swing back towards the quality publisher.
But in terms of our own challenges, we don't have any endemic advertising. We aren't an epicurean brand for instance, we have no endemic business because we're general interest and cover a wide variety of topics. The beauty in that is we can go after every category, but you have to slice and dice our research numbers. For instance, we have a lot of readers that are pet owners and spend a lot of money on their pets.
Trex: One of the great things of having the publishing team is we get those insights. We know things about our readers anecdotally, but the research opens up fun opportunities for us editorially because we know we have those pet-owner readers and can make editorial content around that and give value to our readers.
Folio: Will video continue to be a growing priority for you?
Trex: Video is such a broad term at this point on the web. It's not even what it was two years ago. Every platform has its own requirement, and we're taking a different approach to each one. We have a successful YouTube channel with over a million followers and it's mostly long form. Facebook is obviously different, it's people snacking on video when they're on their phones. So now we want to shift towards service and maintain that Mental Floss sensibility.
Deutch: I think any content can lend itself to video. We can take an idea and add custom content and add a video component to it. I think what's interesting is that the service editorial will create wonderful opportunities for our partners to tell valuable stories about their products.
---
This article originally appeared on Folio:'s sister site, MinOnline.