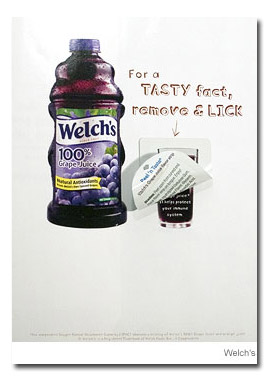 People magazine is running an ad this month from Welch's 100% grape juice which encourages readers to lick it. It tastes, I'm told, like Welch's 100% grape juice.
It's an historic acid test—the ad represents the final frontier of sensory marketing in magazines to be attempted by Madison Avenue.
We've seen 'em try sight (remember the ad embedding LEDs a couple years back), sound (People once accepted an ad that played Elvis' "Hound Dog" to annoying effect), touch and, of course, smell (see "Scent Strips Stink," a post by FOLIO:'s resident perfume critic, John Brady).
How long before we see these in magazines ads? My guess—they're already on their way.
What I'd really like to see, though, is a magazine's editorial team embrace the available sensory technology. For example, what if you were, say, reading a 29-page Vanity Fair article on, say, the war in Iraq in which you could open a flap and actually smell Baghdad? Or how about lathering Sports Illustrated's baseball preview in pine tar? Or … what do you think?
[NOTE: Leave your best idea for an editorial sensory project in the comments section below.]