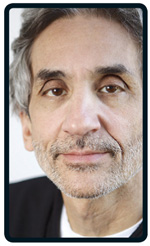 DVorkin arrived at Forbes via its acquisition of his digital journalism startup True/Slant, and embarked on a major overhaul of the brand platforms, taking the business of content and engagement to new heights.

As publishers everywhere continue to struggle with the fundamentals of merging print and digital content strategies, Forbes' Lewis DVorkin has been pursuing bold strategies for the brand. In a broad sense, DVorkin is attempting to flatten the production and presentation of content in a way that affords equal measures of importance between traditional edit and marketer-driven edit—in print and digital. Meanwhile, he's leading the construction of a digital metrics-driven framework for Forbes.com that relies on audience engagement to help guide editorial priorities.
DVorkin joined Forbes in May 2010 when it acquired his journalism site True/Slant. At that point, Dvorkin set about integrating the True/Slant model of content production and ad sales into Forbes' DNA. The magazine has been redesigned using the Web as its muse. "It's really interesting what we're learning about how to use the Web to drive a lot of thinking about the magazine," he says, describing how the print Forbes is adopting the "modular, templated" approach of the Web in its design and content.
The Web site has undergone a major redesign as well, but the beauty isn't just skin deep. DVorkin has created a news room that relies on Web analytics, audience development and direct support for Forbes' 500-strong contributor network to produce content quickly and according to reader preferences. The network itself has become a key to driving traffic back to the site. DVorkin calls it a "distributed news force," each contributor working independently to syndicate their content within their own networks, creating a virtuous circle of traffic feedback to Forbes.com. "[The contributors] are publishing under the Forbes umbrella and distributing their own content. When you spread something like that out there, it eventually feeds back."
On the business side sits the AdVoice program, which allows advertisers to produce their own content that, clearly labeled, blends with editorially-produced content in the magazine and online. It's turning the rise of custom content to Forbes' advantage.
VITAL STATS: Forbes' contributor network has boosted traffic to big editorial packages by double-digits. AdVoices has brought in incremental revenues from old and new advertisers alike.