Leveraging Partnerships to Expand in New Categories

Cooking Light's deal with hotel chain helps market the brand to travelers.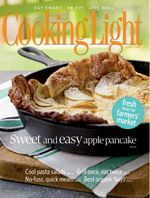 As it works to expand its travel category, Time Inc.'s Cooking Light has teamed up with Kimpton Hotels and Restaurants as a way to market its brand to "healthy living enthusiasts 'on the road,'" according to marketing director Hallett Ruzic.
The deal offers Cooking Light readers a discount code for stays at Kimpton properties. Kimpton guests receive wellness packages from Cooking Light featuring "healthy travel tools" from the magazine's sponsors. "Our sponsors are excited about this new, upscale, affluent market Cooking Light will reach," Ruzic says. The partnership also includes a live Cooking Light Supper Club series of events, which Kimpton will host at select hotels and for which it will serve as presenting sponsor.
Ruzic says synergy between the two brands has been key to setting this up. To publishers seeking similar programs, she says, "Do your due diligence and find a partner whose brand DNA aligns nicely with your own. Equally important, find a partner who understands and values the partnership as much as you do."
Meet the Author
---