Leveraging Audiences Through Vertical Content Channels

Why (and how) vertical channels greatly expand digital opportunity.
For many publications, finding a home for content can present a conundrum. Discoverability and relevancy are vital, as is shareability. Whether publishers convert to the new model, or choose to only pay lip service to fast-forming conventions, readers are still less than willing to conduct search after search for a topic. Immediate gratification is a necessity, not a luxury, of the digital age.
In response, major media outlets are creating easily found channels devoted to topics particularly relevant to their reader base. Here, FOLIO: speaks to The Atlantic, TIME and New York about how these opportunities were identified, and then how they were brought to fruition.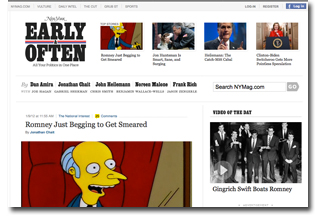 Where the Traffic Goes
New York Magazine launched "Early & Often" in December. The idea for the channel, a vertical space focused exclusively on political coverage, began to form in summer 2011. The opportunity was solidified when NYMag.com experienced its largest traffic day on November 21, "…with nearly 800,000 daily unique visitors, thanks to several strong political stories," according to the company.
Other influential metrics include the 50 percent traffic increase year-over-year in September 2011 from September 2010. Its News & Features section (which includes political stories, among others) had three million unique visitors. Its October 2011 News & Features traffic also spiked from October 2010, up 29 percent to 2.8 million unique visitors.
New York's online general manager Michael Silberman says, "We start by paying attention to areas where we're seeing traction, whether it be editorial traction in terms of audience growth and interest, or advertiser traction, in terms of sponsor interest, or a combination of the two. Then we say, 'There is an opportunity here, what can we do to further exploit it?'"
An advertising opportunity also presented itself with the launch of "Early & Often" when The Economist Group broached a potential partnership through its Ideas People Media Channel. The transparent ad network is home to 50 plus sites relevant to The Economist's, and now New York's, audiences.
"This brings in new advertisers that we aren't necessarily calling ourselves in our normal ad sells efforts," says Silberman.
Current New York staff (which includes Frank Rich, John Heilemann and Noreen Malone) is supplying content for "Early & Often". Silberman says social media for the channel is managed by an internal team that handles all of New York's properties.
"Early & Often" finds itself in the company of other NYMag.com verticals like Vulture and Grub Street, and the recently launched Wendy Goodman's Design Hunting channel. "This is part of an overall strategy that we have identifying vertical content areas where we are starting to see some traction, and deciding what is the best way to take advantage of that; how big is the opportunity in terms of audience and advertising, and how much resource we should put against it," says Silberman.
Cross-promotion is integrated into the editorial channels, but audience behavior often depends on the user's relationship with the publication. "Our most loyal readers typically consume across multiple channels," says Silberman. "But for newer users, we find people will consume in the vertical they came in."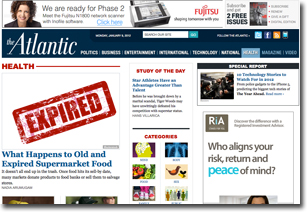 Reviving Strategy to Better Serve Audiences (and Advertisers)
The Atlantic recently debuted it Health Channel, a vertical site comprised of content previously rolled into its now defunct Life Channel. The Health Channel went live on December 13, with its editorial operations led by Nicholas Jackson (who was previously involved with the Life Channel, and helped start the Technology Channel). It is the seventh vertical content site now living on Theatlantic.com.
Bob Cohn, editorial director of Atlantic Digital with Atlantic Media, says the choice to form the Health Channel was more than just a rebranding. "The Life Channel had some great topics under it, but because it was a somewhat vague channel name, there wasn't a clear sense of how people were going to get there, and it ended up being a catch all," says Cohn. "Health was one of the focus areas of the Life Channel."
Content living in the Health Channel will also be featured on the main page. Atlantic staff, as well as freelancers, will create content; partnerships, such as the one in place with MedGadget in "The Cutting Edge" promotion module on the Channel, will also provide content.
"There's every expectation that Health content will rotate as often or more often than other topics on the homepage. We're hoping to drive traffic," Cohn says. "Like most sites, we get the preponderance from our side doors, but the home page can still drive traffic."
Cohn maintains that expanded advertising opportunity was "important, but not a driving factor" in the decision to launch the new vertical.
"As for what kind of metrics we need to justify launching a new channel, I'm afraid I don't view it in quite those terms. The question for me is whether the subject is editorially compelling and fits within the overall mission of The Atlantic. Certainly Health qualifies there," says Cohn. "But it is also the case that we expect each of our channels to attract at least one million unique visitors each month. Health, in its first three weeks, already has exceeded one million unique visitors."
TIME is set to relaunch its Style & Design supplement (which folded roughly 18 months ago) in March of this year. The renewed section, to focus on international travel, cooking, decorating and more, will have a semiannual print version; a Style & Design channel will live on TIME's website. The supplement and channel will be run by managing editor Rick Stengel.
The team at TIME counts audience, as well as advertiser, opportunity among reasons to give Style & Design another shot.
"We wanted to cater to a very specific audience, targeting the global thought leader, the traveler, someone who's taking on the world," says TIME worldwide publisher Kim Kelleher. "This gives us an opportunity to work with not only new advertisers in the prestige market, but also a new outlet for our international advertisers that support TIME in our European and Asian editions looking to dip their toe in the brand in the United States."
The returning edition of Style & Design has a guaranteed rate base of 500,000, and the average reader will have a minimum household income of $125,000.
Style & Design content will be updated daily on TIME.com. Kelleher tells FOLIO:, "This gives the high-end content that is distributed throughout the site a home; in the same way Swampland gives our political coverage a home, or Business gives our business coverage a home. It expands our vertical strategy on the website."
Meet the Author
---