Big publishers have a natural advantage over smaller competition. Increased purchasing power, data collection and cross-marketing opportunities are a few of the perks of having multiple magazines in different markets. The ability to experiment and make mistakes is a less tangible, but equally important leg up.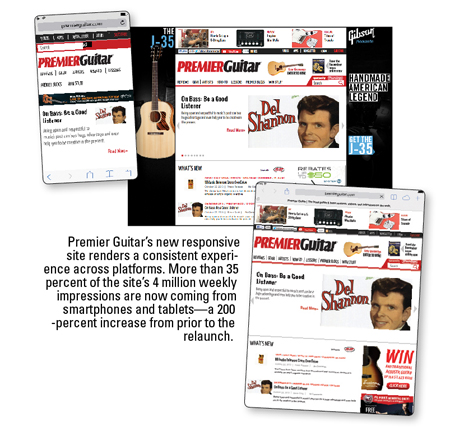 Even single-title publishers can compete with them now though. Raw size advantages are minimized on the digital side, while the benefits of scale in print publishing—though still real—make up a smaller piece of the business.
Premier Media Holdings is one of those small publishers that's been able to punch above its weight. Peter Sprague, the company's chairman, attributes the success to one thing: focus on the reader.
"If you're not reader centric, you're not doing the job," he says. "Editors have to converse with their audience."
The company launched Premier Guitar, an enthusiast title for guitar players, in 2007 as a digital-first entity. With a physical circulation between 20,000 and 25,000, print has always been an important component, Sprague says, but digital production was critical from the beginning.
Premier recommitted to digital this summer, redesigning both the magazine and website. Year-over-year traffic has jumped more than 25 percent as a result, hitting 4 million total impressions a week. And about 35 percent of that traffic is now coming from smartphones and tablets, up 200 percent from 2012. It's carried over to sales too—35 percent of Premier's ad revenue is from digital.
Reader Feedback
Constant tweaking and reevaluation were part of the plan as the Premier gained a foothold in a crowded legacy market; reader feedback was made a priority.
In exchange for equipment giveaways and discount offers, the brand gets to take the temperature of more than 80,000 of its readers with its PG Perks program. Coupled with third-party market universe studies and original surveys, Premier keeps a close eye on its readership.
Responses strongly backed the site's content, but readers were underwhelmed with its functionality and design. They had trouble finding the content, and when they did, they felt it could have been presented more effectively.
Using that feedback as a backdrop, Sprague's team established two priorities for the relaunch.
The first, responsive design, would build on the mobile-optimized site strategy Premier Guitar had already developed. Mobile traffic was growing, but delivery was inconsistent. Readers reported different experiences depending on the platform they were using. Responsive design would fix that, snapping the site to fit whichever device it was viewed on.
The second priority was building a navigation structure that would accommodate the editorial philosophy. Though they were churning out fresh content several times a day, news updates were being sent to secondary landing pages. Meanwhile, magazine articles took up prime position on the home page—all month long.
"We publish by the moment, but the old site was magazine-centric," Sprague says. "Visually, it looked like we published by the month. [We wanted] to, not only visually, but to actually, provide moment-to-moment information to our readers, as opposed to overwhelming them with a month's worth of content all at once."
Fresh content is now front and center on the new site, with a similar experience presented across all platforms.
The Place of Print
Print is one area Sprague admits large publishers still maintain an advantage. Their scale gives them purchasing power in paper and printing that smaller companies just can't match.
But while Premier gives all of its content away for free online—including the digital versions of its magazines—it's able to recoup the costs of producing a physical magazine by charging. Subscriptions go for $24.95 annually or $39.95 for two years—and they don't have to give any away at a discount.
Sprague is looking at the print product differently than most. Its not intended for all of his readers. In fact, it's only made for a few.
"In our view, the sustainability of print is as a collectible for 'tactile' consumers," he says. "We're constantly striving to have an upscale, coffee-table appearance."
That's why increasing the size and improving paper stock were part of the recent magazine redesign. The goal was to provide a quality experience for fewer readers, even if that costs a little more. 
For Sprague, the one advantage the "big guys" still hold is getting smaller.