Len Burnett

co-founder, co-CEO | Uptown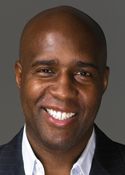 Targeting affluent African Americans with editions in New York, Chicago, Atlanta and Washington D.C., Uptown Media Group is a small but growing media company that saw revenue soar 80 percent in 2008. This year, the company will launch another edition of Uptown in Charlotte, North Carolina (although it scrapped a planned Los Angeles edition). Beginning with the February issue, it will up the magazine's frequency from quarterly to bi-monthly while increasing its rate base of the flagship from 125,000 to 200,000.
The company's continued growth this year won't come from business-as-usual, says founder and co-CEO Len Burnett. He says the increasing need for publishers to fulfill advertiser demands in 2009 is so great that he and his team are beginning to look at other media companies—including those that were once considered competitors—as partners.
"We're looking at possibly working with other media companies to get business neither of us are getting right now," says Burnett. "We believe clients will continue to spend and it will be our goal to get our share of the pie. We plan to capitalize on this because we believe there is an inherent waste when purchasing ads in large-circ books and we plan to stay at the top of our clients' minds as experts."
To that end, Uptown will launch Uptown Social, a bi-weekly invitation-only consumer e-newsletter. "This expands our brand while enabling us to sell sponsorships and cultivate e-mail lists for lead generation purposes," Burnett says.
Uptown also will launch an monthly e-newsletter that will be sent to advertising clients. "When they get a question from one of their own clients and they can use even one of those newsletters as a resource, they'll remember they got that from Uptown," Burnett says.
"It's easy for a magazine or media company to be in front of the client when they have dollars to spend," he adds. "Now, it's even more important to be there for them and listen to their needs so that you'll continue to be there when the dollars do come back."
Where They Will Grow: By partnering with competing media companies to better serve advertiser needs. Increasing lead generation, brand awareness with two e-newsletter launches.
Where They Will Save: Opting not to launch a Los Angeles edition in 2009 and scaling back on new events.
 
Quote: "We believe clients will continue to spend and it will be our goal to get our share of the pie. To do that, we'll need to approach advertisers more as marketing partners."
MAIN PAGE
Todd Matherne CEO | Renaissance Publishing
Toyin Awesu publisher and editor-in-chief | AvenueReport.com
Cameron Brown president | King Fish Media
Deborah Esayian co-president | Emmis Interactive
Efrem "Skip" Zimbalist CEO | Active Interest Media
Justin Smith president | The Atlantic
Steven Kotok general manager | The Week
Risa Crandall VP | Scholastic Parents Media
Janet Libert editor and publisher | Executive Travel SkyGuide
Mike Domke founder and president | Milo Media
Jim Prevor CEO | Phoenix Media Network
Kent Brownridge general manager | OK!
Samir Arora CEO | Glam Media
John Sateja EVP | Consumer's Union
Jim Vick staff director/publisher | IEEE Spectrum
Pete May president | Greener World Media
Barb Newton president | Sunset Publishing
Paul Mackler | CEO | HMP Communications Holdings
Harry Sachinis | president | McGraw-Hill Business Information
Meet the Author
---