Len Burnett

Co-CEO and Group Publisher | Uptown Media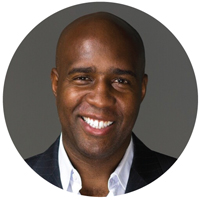 Launched in summer 2004, Uptown has developed into a successful, fast-growing and diversified media company with online products, events and print editions.
The magazine was the brainchild of former Uptown Records exec Brett Wright and Len Burnett, who helped launch Vibe and had recently departed urban magazine publisher Vanguard Media, which filed for bankruptcy in 2003. Burnett had an idea for a magazine targeted to an underserved demographic in New York.
"I'd been looking at the Modern Luxury and Niche Media titles and felt the hole in the donut was that we live in New York City, arguably the most diverse city in the world, but there wasn't a magazine that spoke to the college-educated, affluent African-American here," says Burnett. "That's where Uptown came in."
About a year after launching the New York edition, the team realized that they could replicate the model on a regional basis, and by 2005, expanded with Chicago, Atlanta and Washington D.C. editions.
In 2006, Burnett received an offer to return as part of a team looking to acquire Vibe over 12 to 18 months. Funding Uptown's expansion themselves, the co-CEOs were seeking additional financing. "The offer couldn't have come at a better time. My bank account was low … we needed to find money to fund Uptown."
By November 2007, Burnett acquired sufficient funds, including private equity funding from InterMedia Partners—which reportedly injected $6 million into Uptown Media—and left Vibe with the intention of finding Uptown "solid luxury advertisers."
Revenues soared 80 percent in 2008 and there are plans to launch a Charlotte edition. In February, Uptown went from a quarterly to a bi-monthly, increasing its rate base from 125,000 to 200,000.
"Right now, the magazine is the hub of all the various integrated opportunities we have," he says. While he predicts that the magazine will continue to grow, "the digital piece will evolve into the centerpiece."
VITAL STATS: Fast-growing, diversified Uptown Media saw revenue jump 80 percent in 2008.
Meet the Author
---