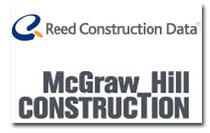 The ongoing legal battle between Reed Construction Data and McGraw-Hill Construction Dodge has taken another strange turn.
In a statement it posted online, RCD says that McGraw-Hill Construction, in a document filed in federal court on October 22, admitted that it paid third parties to access RCD's confidential and secret trade information that was accessible only to paying subscribers, and that it shared that information with its sales staff. RCD filed its original lawsuit against McGraw-Hill in October 2009, alleging 11 counts of misconduct, including corporate espionage.
"McGraw-Hill has admitted accessing our proprietary system, admitted reviewing our data and admitted downloading that data, yet they deny that they did anything wrong with the data," RCD CEO Iain Melville says in the online statement. "RCD firmly believes that McGraw-Hill acted inappropriately in obtaining and using RCD's confidential and proprietary data in an attempt to gain unfair advantage in the marketplace. We intend to vigorously pursue our claims against McGraw-Hill in court."
In an e-mail to FOLIO:, a McGraw-Hill spokesperson echoed the company's denial that is unlawfully misappropriated RCD's trade secrets or shared any RCD trade secrets with its sales team. "Reed's main claim is that comparisons McGraw-Hill made between its Dodge product and Reed's product are misleading, but all evidence shows that the comparisons were accurate," McGraw-Hill says in a statement.
The company goes on to make an allegation of its own. "Indeed, McGraw-Hill has learned that Reed hired a consultant to access McGraw-Hill's Dodge data base (exactly what Reed's lawsuit accuses McGraw-Hill of doing), and to perform its own comparisons of the two products. Reed's paid consultant also concluded that McGraw-Hill's Dodge product was superior—a fact that Reed never disclosed to its customers or the public.  McGraw-Hill intends to establish this in the litigation and once we do so, it will undermine Reed's main claim."
The McGraw-Hill spokesperson says its information regarding Reed's use of consultants is "something we learned through our investigation of the matter," and that McGraw-Hill expects additional information to emerge as the case is litigated.
Last month, a New York U.S. District Court judge ruled in favor of McGraw-Hill Construction Dodge to dismiss three of the counts brought against it in the RCD case. Specifically, the ruling dismissed the counts alleging violation of the New York General Business Law consumer fraud statute, violation of the Racketeer Influenced and Corrupt Organizations Act (RICO) and conspiracy to violate RICO.
The litigation concerning the remaining eight counts, obviously, is ongoing.