Led by Digital, B-to-B Media Revenue Up 5 Percent in '13

Events have been consistent, but everything else has changed.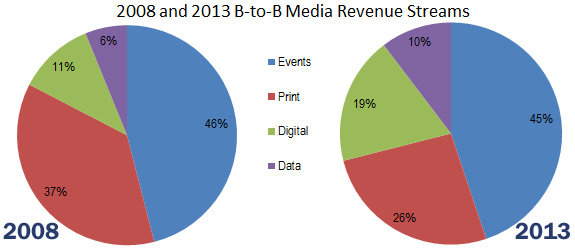 While events have been a consistent moneymaker for b-to-b media since 2008, the rest of the revenue pie has shifted dramatically as the industry's recovery continues.
The b-to-b media business grew 5 percent from the prior year in 2013, generating $26.9 billion, according to ABM's 2013 BIN report, released Wednesday.
The revenue total is about even with the 2008 figures but, adjusting for inflation, earnings have fallen close to 8 percent. There's reason for optimism though—the industry's enjoyed steady growth since a dramatic fall-off in 2009.
Though ABM doesn't offer a revenue-per-event analysis, events have reliably produced 45 to 48 percent of the b-to-b media's total revenue over the last five years (they generated 45 percent, or $12 billion, last year).
Client and consumer spending has changed in print, digital and data however.
Digital advertising was the industry's biggest growth area in 2013, increasing 22 percent to $5 billion, with income from data products rising 10 percent to $2.8 billion.
At $7 billion, print advertising—though down 4.4 percent last year and, adjusting for inflation, a whopping 36 percent since 2008—still commands a quarter of the industry's revenue however.
"Business-to-business media is sitting on a gold mine of customer data and business intelligence, and companies appear to be taking advantage of it," Mike Marchesano, managing director of ABM, says in a statement. "B-to-b media companies are increasingly offering business intelligence with quality, actionable insight into customer behavior. Growth should continue as the media and information companies continue to blaze new trails as a result of recent acquisitions and partnerships with data and market research companies."
Meet the Author
---