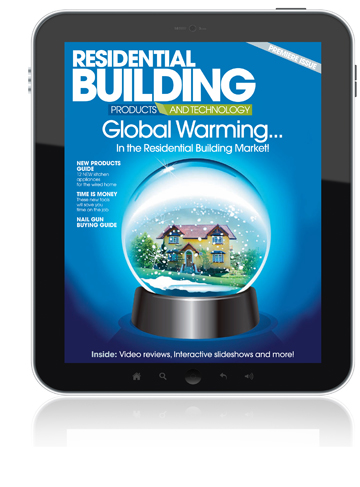 Lebhar-Friedman, a b-to-b media company targeting the retail, residential and healthcare markets, has expanded its residential products group to include  a new digital-only brand called Residential Building Products & Technology. Built exclusively for the tablet and desktop, the brand will leverage an affiliate marketing model to launch with an initial circ of 75,000.
The magazine's audience will largely be builders, remodelers and subcontractors, and will focus its edit on product and construction plans. Nigel Maynard, formerly an editor at Hanley Wood, has been tapped to lead the publication as its editor.
"Study after study show you that one of the best-read areas in a [building industry] magazine is the products and plans," says vice president and group publisher Jack Brannigan. "They both have common themes—plans are ideas and products are universal—and we saw a void in the marketplace."
The new title comes on the heels of Brannigan's appointment in October as part of a plan to expand Lebhar-Friedman's residential products group.
The brand, which will officially launch in January, will include the tablet edition, a website and a weekly newsletter. The audience will be assembled through a series of affiliate relationships led by Brannigan.
Homesphere, a lead-gen company for the residential construction market where Brannigan was senior vice president before joining Lebhar, has signed on as a sponsoring partner and will provide access to its customer database.
The title, built on the Nxtbook platform, also recently became the official publication of residential building event PCBC The Show. "We'll also be working with state and local homebuilding associations and suppliers to the homebuilding marketplace," adds Brannigan. "We plan to deliver to the marketplace as much as 125,000 or 150,000 subscribers."
Residential Building Products & Technology will be a controlled circulation publication with a monthly frequency, supported by ad revenue.