At Least Magazines Don't Have to Deal with Machine Theft

Newspaper machine-stealing epidemic strikes Colorado. Seriously.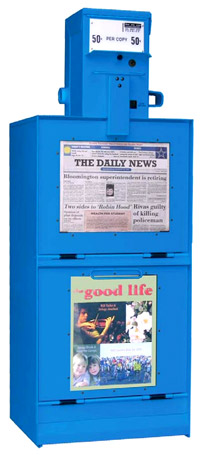 Whatever your thoughts are on the state of the magazine industry—"It's strong!" "It's resurging!" "It's receding!"—at least publishers, in general, don't have to deal with this:
Thefts of newspaper machines in a pair of Colorado counties—Greeley and Weld—have reached high levels, with the 47th Tribune newspaper dispenser stolen this week.

The thieves are apparently taking the machines off of street corners, then taking them to remote areas where they use a power grinder and bolt cutters to get into the machine and take the change. They usually then dump the machine alongside a road. Most of the thefts have occurred between 10 p.m. and 2 a.m.

"It doesn't seem like it would be worth the effort," said Gary Doering, single copy manager for the newspaper. "They have to cut through everything to get the coin box, and it might have only a few quarters in it."
Meet the Author
---