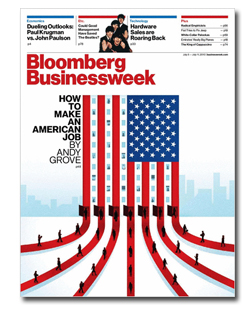 Bloomberg apparently is still trying to find the right groove with its staff at Bloomberg Businessweek. The company laid off an unspecified number of staffers from Businessweek.com on Tuesday.
"The process of integrating the two organizations is an ongoing one," a company spokesperson said in a statement to FOLIO:. "As such, there was a small reduction of employees on the editorial side of Businessweek.com yesterday."
According to Talking Biz News, the Businessweek.com news editor and Investing channel managing editor were among those who were let go. The report also noted that a December 1 deadline for Bloomberg to honor Businessweek's severance agreement might have been a factor in the round of cuts.
More than 100 people were let go at Businessweek earlier this year after the magazine was sold by the McGraw-Hill Companies to Bloomberg  L.P.