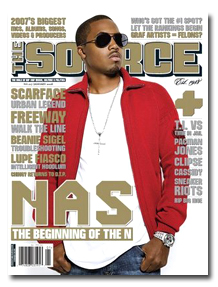 Northstar Source Group, a shareholder in pioneering hip-hop magazine the Source, has purchased a $3.75 million debt obligation and the remaining stock from a major investor in the magazine, making it the majority owner of the company.
Northstar, led by media and entertainment attorney L. Londell McMillan, acquired the stock and secured $3.75 million note from Textron Financial, a commercial finance company. As part of the acquisition, McMillan says he will either serve as or appoint a chairman for the Source.
"The logic here was simply to reduce the Source's debt burden, increase retained earnings for the growth of the business, avoid sale of any important content and assets that are all integral parts of the new media vision and business plan of new management," McMillan wrote in an e-mail to FOLIO:. "This debt cancellation makes the Source the most financially attractive property in hip-hop and popular culture because it is now debt free and profitable."
McMillan says the magazine will undergo "numerous changes" in the coming months. "Through a variety of cost saving measures, strategic investments and upgrades to the Source infrastructure, it is our intent to elevate its editorial content and advertising standards, while simultaneously building our presence in the digital and mobile media spaces," he wrote.
Launched two decades ago, the Source is considered a pioneer in hip-hop magazines, but faced financial problems in recent years, including a bankruptcy filing in 2007. McMillan, along with investment banker Jeffery Scott and his Black Enterprise/Greenwich Street, acquired a stake in the magazine in August 2008. The magazine was formerly owned by co-founders Dave Mays and Raymond "Benzino" Scott.