Law Journal Launches Sotomayor Web Portal

Online opportunism.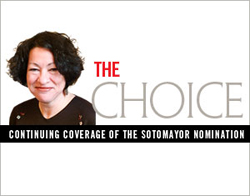 There have been plenty of bad (even egregious) examples of magazines looking to capitalize on big media stories for their own benefit (see "The Ethics of Covering Heath Ledger," "People Looks to Capitalize on Newman Death" et al).
 This one, however, is a good example of a niche magazine trying to capitalize on a general-interest story that legitimately crossed over to its market.
Incisive Media's National Law Journal has launched something called "The Choice," an online "news center tracking breaking news, background, and commentary" related to the nomination and confirmation of Judge Sonia Sotomayor as the nation's next Supreme Court justice.  The site will pull in original and related coverage from Incisive's NLJ, American Lawyer and New York Law Journal.
Without a dedicated URL, and a limited shelf life, this may be a short-lived experiment.
But who knows? Maybe it'll work, maybe it won't, but, at the very least, it's opportunistic.
Meet the Author
---