Lauren Wiener

SVP, Meredith Interactive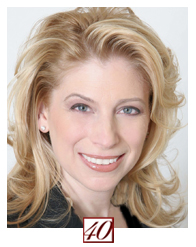 There's no question Meredith Corp., publisher of such industry staples as Better Homes and Gardens and Ladies' Home Journal, has been successful with traditional print media (after all, its first magazine, Successful Farming, has been around for more than 100 years). Now the company is proving its prowess in new media. Led by Lauren Wiener, senior vice president of Meredith Interactive, Internet revenue for the company jumped 40 percent from fiscal year 2006 to fiscal year 2007.
Meredith operates 31 Web sites pulling in an audience of nearly 19 million unique visitors on average per month. "That's translated into huge growth of our inventory of monetizable ad impressions, which has underpinned our revenue growth and profitability," Wiener says.
Meredith has expanded its Internet platform beyond content, including subscription generation, customer service and e-mail acquisitions. In essence, Meredith wanted to capture more customer data more efficiently, Wiener says. To achieve that, it had to invest in acquiring best-in-class marketing technology and CRM capabilities, including Healia.com, a consumer health search engine.
Last year, Meredith relaunched BHG.com, expanding its ability to offer advertisers custom integrated solutions with these "highly passionate participants." The result? Just seven months since the relaunch, Meredith hit its record high in unique visitors with just under 6 million in October '07.
Last March, it shut down Child and repurposed it to a pure Internet play, Parents.com, that became the Web hub for three of its other titles, Parents, American Baby and Family Circle. "Right out of the gate, site traffic jumped six months ahead of what was projected and we've hit highs of 2.5 million monthly unique visitors and 33 million monthly page views," Wiener says.
VITAL STATS: Meredith's top performing sites include BHG.com, which has an average of 4.7 million unique visitors a month with 92 million page views and Parents.com, a parenting portal which has about 2.1 million unique visitors monthly on average with 25 million page views.
Meet the Author
---