Late to Augmented Reality Party, Esquire Delivers Solid 3-D Package

Magazine is latest to utilize AR technology.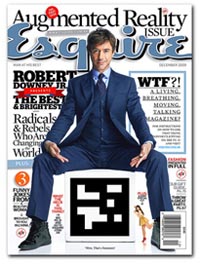 In terms of innovation in the print medium, Hearst's Esquire magazine has been a pioneer on a number of fronts in recent months. Last year, it partnered with Cambridge, Massachusetts-based E Ink to produce an electronic "paper" display for the magazine's 75th anniversary October issue. Then in February, Esquire produced a cover "window" that opened to a mini table of contents and featured an advertisement on the back flap. Its May "How to Be a Man" issue featured perforated covers that act like a flip book, allowing readers to make 27 combinations of the facial features of Barack Obama, George Clooney and Justin Timberlake.
Now, the magazine is tapping augmented reality technology to take innovation into the digital realm.  Throughout the December issue (which hits newsstands November 17) are coded markers that, when readers/users hold up to their computer's Webcam, trigger interactive video "experiences" to appear on their screens. Four articles and the cover are equipped with the AR functionality.
For example, when a user holds the cover to their Webcam, cover feature/actor Robert Downey Jr. appears on their screen, talks about the issue, sings and shows a clip of his upcoming film, Sherlock Holmes. Car maker Lexus is the issue's exclusive advertiser for the AR technology, with an ad that's AR-enabled.
But while Esquire was first (or near first) with its other "innovations," it's late in delivering augmented reality in magazines. In June, Bonnier's Popular Science utilized augmented reality firm Metaio's Web application software to create an interactive image (provided by General Electric) featuring wind turbines when readers held up the cover of its July issue to their computer cameras. Time Inc.'s InStyle magazine used augmented reality to make some advertisements in its December holiday gift guide issue three dimensional. Last month, publisher Future US also utilized the technology for the December issues of Official Xbox Magazine and Playstation: The Official Magazine featured an advertising campaign that generated an interactive 3-D war scene.
Instead of kicking open the AR door for magazines, Esquire has simply contributed to a "rising trend." Or has it? To be fair, I haven't seen the magazine in my hands yet, but it looks like Esquire has in fact delivered a superior AR experience, compared to those we've already seen. Check out editor-in-chief David Granger's video introduction to the issue below.
Aside from who's first and who's not, perhaps the better question is whether utilizing AR is true "innovation" or all gimmick. What's the real value for print magazines?
Meet the Author
---