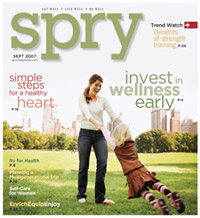 The Publishing Group of America—the Franklin, Tennessee-based company behind newspaper-circulated magazines American Profile and Relish—has found a publisher for what it is calling the "largest health magazine launch of time."
Bob Mattone has been named publisher of Spry. Mattone had been Gemstar TV Guide's New York sales manager since 2003.
Spry is scheduled to launch in September with a monthly circulation of nine million. Like PGA's other titles, Spry will be distributed through newspapers.
According to Mattone, "female boomers are gatekeepers to family health, and our distribution channel guarantees engagement with them."
American Profile debuted in 2000 as "the second largest publishing launch in U.S. history," according to the company. It is distributed through more than 1,400 newspapers with a combined circulation of over 8 million. Relish launched in February 2006 with a circulation of 6.8 million. Its circulation has since grown to 9 million.
PGA was acquired by Bain Capital Partners in September.