Lance Brown

Community Manager, WTWH Media LLC, 26-years-old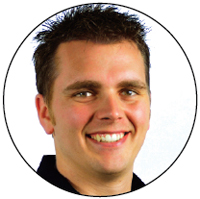 Before Lance Brown became the face of social media at WTWH Media LLC., he started out as an intern, but was soon offered a full-time position as community manager.
Brown acknowledges that the way the reader consumes information has changed forever, and bases his social media strategy around the concept of making content available on the users' terms.
The 26-year-old compares social media to the world's largest cocktail party, stating that you can mingle and find people with similar interests then gain respect by contributing to the conversation.
"That's exactly the experience we've had," explains Brown. "We're not just spitting out information, you become a person and you become personalized."
WTWH has grown 200 percent on Twitter, saw a growth of 5,000 percent on Facebook and has doubled the size of its LinkedIn profiles.
Brown manages relationships between WTWH and its users, specifically engineers. He not only makes useful information available on various social networking sites such as Twitter, Facebook and LinkedIn but also manages the community at EngineeringExchange.com; which showcases forums, blogs, groups, images and industry resources.
Recently, WTWH made the Inc. 5000 list—which recognizes the 5,000 fastest growing privately-held companies in the U.S.—in large part because of its social media. Brown says that a lot of people expect social media to drive a sale, but that's usually not the case. He mentioned that the role of social media is to build relationships between the company and its users since sales aren't made on a daily basis but sporadically in 'big sale' increments.
Brown's biggest piece of advice to independent publishers is to get rid of the loudspeaker. "No one cares about a broadcaster," he said. "I've put down the megaphone and really engaged with the users. As you listen and engage with other people they will be able to listen and when you are having a conversation then you are able to promote your company."
Brown says he could not do his job without his content and talking points supplied by his co-workers.
"They are the ones that produce unique, useful, high value content. They give me something to talk about," he adds.
Meet the Author
---