Laid Off Brandweek Editor Launches Sports Site

Barry Janoff hopes to create SportsJournalism.com network.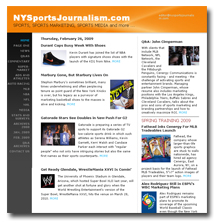 Barry Janoff, who served as executive editor and sports editor at Nielsen's Brandweek magazine since 2001, was laid off last month as part of a consolidation of the editorial staffs across Brandweek, Adweek and Mediaweek. Since then, Janoff has been working full time on NYSportsJournalism.com, a daily sports marketing Web site he launched in mid-January.
"I wanted to oversee a daily sports publication, which translates very well to the Web because costs are lower and potential audience reach is much greater than trying to run a daily print entity, especially given the current economy," Janoff told FOLIO:.
The site, Janoff said, competes directly with other sports news sites like SportsBusinessDaily.com and CNBC.com's Sports Biz with Darren Rovell. So far, he said, traffic is approaching the "five-digit range," driven in part by e-newsletters which he sends two to three times per week.
"People who used to read my weekly sports column in Brandweek now go to NYSportsJournalism.com," Janoff said. "I'm in the process of moving the content to a more extensive host system that can support a lot of active advertising."
Boston, Chicago, Los Angeles, Beyond
Janoff has ambitious plans for the "SportsJournalism" brand which, right now, he operates and produces on his own. If he's able to effectively monetize the site after swapping hosts, Janoff hopes to hire writers and expand beyond New York into Boston, Chicago, Los Angeles and San Francisco.
"My plan is to get the New York site well established and then build and launch the other sites, so I purchased the URLs to protect them," Janoff said. "Writers I know in the respective cities have asked to work on the sites, but I want to be able to pay them to do so.
"ESPN is just now opening a Chicago-based Web site and they've been around a long time," he added. "I see the online SportsJournalism.com network building faster than that."
Meet the Author
---